Gloucester Point DMV Office:
2348 York Crossing Drive Hayes, Va 23072
2348 York Crossing Drive Hayes, Va 23072
Gloucester Point, VA 23072
United States
Last updated on:
01/26/2016 - 04:16
Gloucester Point DMV Location & Hours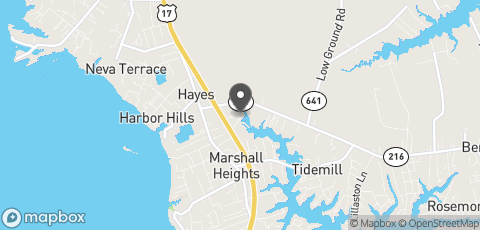 2348 York Crossing Drive Hayes, Va 23072
Gloucester Point, 23072
Gloucester Point DMV Office Services
Gloucester Point DMV Office Notes
Motorcycle road tests are not conducted at this Customer Service Center. To schedule a motorcycle road test, please contact Rose Crist at 757-434-3061.
E-ZPass On-The-Go sold here.
Don't Forget to Leave a Review!
Let us know how this location handled your transaction. Did you have any issues?
Gloucester Point Virginia DMV Reviews and Tips
OMG!!!!!! I know everything is automated now. It is very, very, RARE to get an ACTUAL HUMAN that answers the phone when you call a business. But this DMV wins the GOLD MEDAL for being the WORST place to actual get any information over the phone!!!!!!!!!! I called and of course got an automated list of numbers to select according to what I needed. However there wasn't a selection for the question I had so I was HUNG UP ON. Then the "chat button" popped up and I thought , "Oh finally, I'll get to speak with a live person." BUT NOOOOOOOO! This to was an automated robot!!! FINALLY, I was directed to a link where I could join up AND PAY, ACTUALLY HAVE TO PAY TO GET A LIVE AGENT!!!!!! UNBELIEVABLE! The fee was only a dollar, I think, at that point I was so boiling mad I just logged off. So I proceeded to call the DMV in West Point. And WOW, after just 1 ring a REAL HUMAN answered the phone!!! I was able to take care of what I needed and was off the phone in about a minute and a half! SO, the moral of the story is: CALL WEST POINT DMV for help. However, I keep in mind that they are a DMV Select, so they don't have full services there. But it's a good place to start ~ they ANSWER THEIR PHONE!!!!!!!!!!!!!!!!! My rating for this place: 0!!!!!!!!!!!!!!!!!!!
Questions and Answers
There are no questions yet, be the first!