New York State Department of Motor Vehicles
168-46 91st Ave.
2nd Floor
Jamaica, NY 11432
United States
Jamaica DMV Location & Hours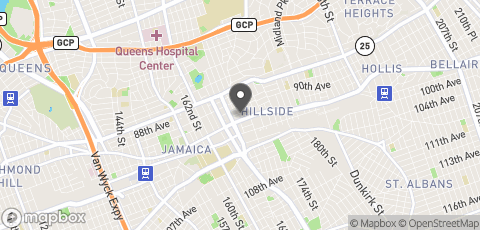 168-46 91st Ave.
Jamaica, 11432
Jamaica DMV Office Services
NY DMV offices handle all transactions
Jamaica DMV Office Notes
CDL General Knowledge Tests: 8:30 - 1:00; CDL Endorsement Tests: 8:30 - 3:30 Escort Vehicle Tests: 8:30 - 3:30
Additional Office Services & Hours
Type
CDL General Knowledge Tests
Hours of Operation
Monday - Friday:
8:30 am-1:00 pm
Type
CDL Endorsement Tests
Hours of Operation
Monday - Friday:
8:30 am-3:30 pm
Hours of Operation
Monday - Friday:
8:30 am-3:30 pm
Don't Forget to Leave a Review!
Let us know how this location handled your transaction. Did you have any issues?
Photos of New York State Department of Motor Vehicles Office
Jamaica New York DMV Reviews and Tips
Be prepared for long wait times due to the coronavirus and social distancing. Once you get inside it shouldn't take you long for what you have to do
SECURITY GUARDS AT THE E DOOR ARE RUDE AND OBNOXIOUS TO PEOPLE. YELLING AT THEM AND TREATING PEOPLE LIKE ANIMALS TO BE HERDED AND DISCOURAGED FROM ENTERING. NO COURTESY AND NO HUMAN RELATIONS SKILLS FOR CUSTOMERS. THEY ARE JUST NASTY AND TRY TOBULLY PEOPLE.
Questions and Answers
I Lost My Car Registration,What Can I do To Get A New One?
Contact the New York State Department of Motor Vehicles (DMV) to request a replacement registration. You can do this by calling the DMV at 518-474-5766 or by visiting a local DMV office in person.

Provide the DMV with your vehicle's make, model, and registration number. You will also need to provide proof of ownership, such as a title or bill of sale.

Pay the required fee for a replacement registration. In New York State, the fee is $20.

Once your request has been processed, the DMV will mail you a new registration card and sticker. It's important to keep your registration up to date, as driving with an expired registration can result in a fine.

It's also a good idea to keep a copy of your registration in a safe place, in case it is lost or stolen again. This will make it easier to get a replacement in the future.
Is my standard permit i.d. that expires in 2026 still valid after I have received my Real i.d. that says it expires in June