Garden City DMV Office
New York State Department of Motor Vehicles
400 Oak Street
Garden City, NY 11530
United States
Last updated on:
08/17/2023 - 13:21
Garden City DMV Location & Hours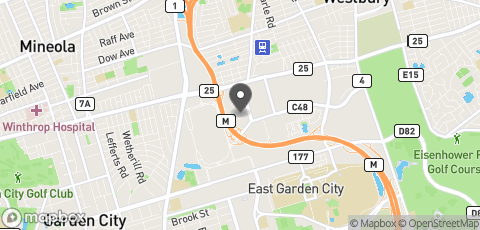 400 Oak Street
Garden City, 11530
Garden City DMV Office Services
NY DMV offices handle all transactions
Garden City DMV Office Notes
NOT given at this location
they are given at the Massapequa location.
Additional Office Services & Hours
Hours of Operation
Monday - Friday:
8:30 am-1:00 pm
Don't Forget to Leave a Review!
Let us know how this location handled your transaction. Did you have any issues?
Photos of New York State Department of Motor Vehicles Office
Garden City New York DMV Reviews and Tips
If you're going to this location, please make an appointment. The first time I tried to do a walk-in, the line was literally out the door and around the block, and this was pre-covid. Luckily, you make your appointments online and they reserve the Saturdays specifically just for appointments (not sure if it's just a temporary thing).

When I arrived on the day on my appointment, it was still somewhat packed, but not as ridiculous as my first failed visit. Although full, the staff there worked diligently to move the customers quickly. I was there for a license renewal and got it done fairly quickly. The staff was knowledgeable and worked efficiently, and although I spent around 40 minutes there (mostly from waiting), I was at the service counter for maybe 10 minutes or less.

The location is easy to find as it intersects off a main road and has ample parking. The inside was also fairly clean. All in all, I would return to this DMV for my motor vehicle needs but definitely not without an appointment.
The location was clean and the staff was friendlier than most DMVs I have been to. I had a very simple issue with my previous license and the appointment was scheduled ahead of time online. I did have to wait a little bit but I understood due to the pandemic we're experiencing. My issue was solved within 15 minutes. Pretty good service, especially for a DMV.
I had a mid afternoon appointment. Luckily the weather was mild as you have to wait outside until they are ready for your number. The security guard that is at the door is very friendly, helpful and helpful. While I was chit chatting with him, he told me that the best times to visit DMV are the mid afternoons as the wait times are least. Once it is your appointment time, the security guard will check it against his list of appointments and will let you into the building. You then have to go to the main counter to check-in. At that point you are given a number just like they always do and you can sit and wait until your number is called. For the moment I was given my number, I waited about 20 minutes before I was called. All DMV staff were very friendly and efficient. The DMV office is following your typical COVID procedure.


The DMV is located in a very populated area with other buildings and establishments nearby. The parking situation is very stressful as there were not a lot of parking spots. It would probably help to have someone drop you off instead of going yourself and trying to find parking. Try to make an appointment beforehand if possible.
Questions and Answers
There are no questions yet, be the first!