Coney Island DMV - Brooklyn NY DMV
New York Department of Motor Vehicles
2875 W. 8th Street
Brooklyn, NY 11224
United States
Last updated on:
12/19/2022 - 11:23
Brooklyn DMV Location & Hours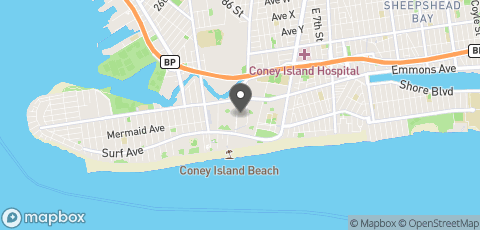 2875 W. 8th Street
Brooklyn, 11224
Brooklyn DMV Office Services
NY DMV offices handle all transactions
Brooklyn DMV Payment
Cash
Check
Credit Card
Debit
Brooklyn DMV Office Notes
This is a full-service New York DMV office, For the shortest office visit please make an appointment online. 
Additional Office Services & Hours
Hours of Operation
Monday - Wednesday:
8:30 am-3:30 pm
Thursday:
10:00 am-5:30 pm
Type
CDL General Knowledge Test
Hours of Operation
Monday - Wednesday:
8:30 am-1:00 pm
Thursday:
10:00 am-3:00 pm
Type
CDL Endorsement Tests
Hours of Operation
Monday - Wednesday:
8:30 am-3:30 pm
Don't Forget to Leave a Review!
Let us know how this location handled your transaction. Did you have any issues?
Brooklyn New York DMV Reviews and Tips
The staff at the Brooklyn DMV were okay but not very helpful. When I went to the front desk after confirming I had an appointment, the worker did not understand that I already filled out the paperwork online. I had to explain to the worker that I did not need to fill out a form as I had already and showed them a copy, but they disregarded it and gave me a new form to fill out. The form itself wasn't long so it wasn't that much of a hassle but it was still very annoying to have a worker not listen to what I had said. The Covid Procedures were in place and done very well, the seats were separated by a large number of feet so people were not close with each other. The only people allowed in to wait were those who already made an appointment like myself. The staff could have been more clear on what to do when I walked in, as they told me to go to the front desk when I could have used a kiosk to confirm my appointment and not have to fill out a new form. The location was easy to find and commute to, the parking around the neighborhood was difficult to find a parking spot, however. If anyone were to attend and visit this site, I would suggest using a kiosk; and if they want to talk to a person directly, try to be very clear on what you are saying to not cause any unnecessary confusion and work for both you and the staff at this DMV.
Questions and Answers
Do I need an appointment for Renew driver license ?
How do you make an appointment?
I was incarcerated and I have my doccs ID, original social, proof of address, parole papers, and copy of birth certificate is this all sufficient for the non-drivers ID and is there a fee?
do i need apointment to renew my ny id card