New Jersey Motor Vehicle Commission
215 Crown Point Road
West Deptford, NJ 08086
United States
West Deptford MVC Location & Hours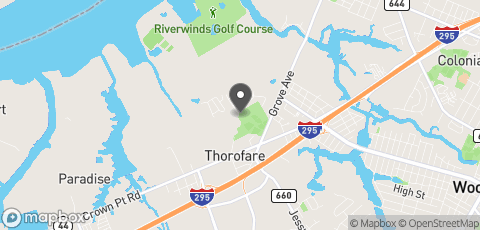 215 Crown Point Road
West Deptford, 08086
New Jersey MVC Office Services
Titles, Licenses, Registrations, Abstracts (certified, five-year)
Vision and Knowledge Tests
CDL Written Test
New Jersey MVC Payment
Cash
Check
Credit Card
May accept ATM/Debit cards
Money order
Notes
Most transactions by appointment only.

Licensing Center. Regional Center

Saturday hours not available for certain walk-in services. 
DMV Practice Tests
Let us know how this location handled your transaction. Did you have any issues?
New Jersey MVC Reviews and Tips
This is the regional division of motor vehicles. It is the most important dmv because this is where they lift suspensions for you when you pay, do driver's tests and road tests etc. It is a "catch all" dmv. Plan on spending a good amount of time in this dmv. Make sure you bring snacks and something like a book to read. It is the largest dmv I have seen or encountered. They are well organized but the wait time can be ridiculous at busy times. DMV workers are not very friendly. I get the feeling no one here likes their job. It is an easy to find location, located right off of the highway. Easy access from I-295. The last visit I had was pre Covid, so at least I didn't have to deal with that mess too.
I went to the dmv today July 14th 2020 and it was a lot smoother than I expected. I arrived at 6:50 and was driving out of there by 10:00 am. I restored my license and received a new driver license. The line was all the way around the building when I arrived. They did great. Thank you
my son just wasted a trip down here. They say you need a W-2 or some other document showing full social security number. Illegals voting is fine, no proof of anything except voting Liberal, but to register a 14' boat you better have all your ducks in a row.
Every person you come in contact there is extremely arrogant. They know you are at their mercy to get what you need at that visit. All seem to be very unhappy working there. What a shame!!
Questions and Answers
What to do if you want to surrender tags and registration and title company does not want the car can you still turn in tags less value the car is now not running don't want it no more want to showing your tags and registration what do I do with title company that does not want to pick up
Hello,

If you want to surrender plates that are no longer in use, you can either:

-Visit any New Jersey Motor Vehicle Agency and surrender the plates. You will need to deposit the plates in the drop box in the front of the agency office.

-Send the plates in by mail to:
New Jersey Motor Vehicle Commission
P.O. Box 129
Trenton, New Jersey 08666-0129
Do I need to make an appointment for my NJ state ID