813 Greenbrier Parkway Chesapeake, VA 23320-3647
Chesapeake, VA 23320
United States
Chesapeake DMV Location & Hours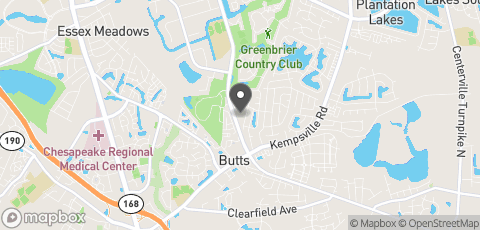 813 Greenbrier Parkway Chesapeake, VA 23320-3647
Chesapeake, 23320
Virginia DMV Office Services
Notes
E-ZPass On-the-Go sold here
HAZMAT background check applications and fingerprinting are at this location.
DMV Practice Tests
Get ready for your written test with one of these Great Practice Tests:
Virginia DMV Reviews and Tips
When a person have tag to return there should be a drop box at DMV instead of having to go though all of this.
Staff was helpful but overall appeared to be in slow motion. Didn't care that we had an appointment and still took their time to call us up to the window.
We made an appointment, online, with DMV and now need to cancel. We no longer have the email confirmation from DMV, so that option is lost to us. We can't figure out how to cancel the appointment online. Sitting on hold forever, on the phone, is not the answer. Help?
Questions and Answers
How do I apply for handicap tag