New Jersey Motor Vehicle Commission
271 US-22
Springfield Plaza
Springfield, NJ 07081
United States
Springfield MVC Location & Hours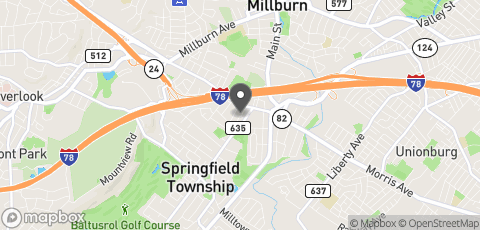 271 US-22
Springfield, 07081
Springfield MVC Office Services
License plate transfer or replacement.
New registration/title.
Registration/title transfer for private sale of a new vehicle, boat or trailer.
Renewal of registration.
Replacement or duplicate title.
Salvage title.
Springfield MVC Payment
Cash
Check
Credit Card
May accept ATM/Debit cards
Money order
Springfield MVC Office Notes
Appointment required for most services. 

No appointment required for Disability Placard or License plate returns. 
Don't Forget to Leave a Review!
Let us know how this location handled your transaction. Did you have any issues?
Springfield New Jersey MVC Reviews and Tips
It was a more pleasant experience making an appointment before going because you don't have to wait in line and they take you right in. The earlier the appointment, the better.
worst experience. One person told me what I had was OK. The next person told me it wasn't so I needed to start again. Also I was there 25 minutes before my appointment and was 14th in line, with only two people checking.us in.
When another person came on , one left, so the backlog continued.
Questions and Answers
My license plate covering is bubbling and peeling off through no fault of mine. Can I get it replaced for free? And if so, what's my next step? Thank you for your help.
You cannot get your license plate replaced for free. To replace your damaged license plate, you must follow these steps:

1. Visit a motor vehicle agency.
2. Present your current registration and required identification.
3. Pay the $6 fee for standard plates or the $11 fee for special interest or dedicated plates.
4. You will be issued a replacement set of plates.
5. You must surrender your old, damaged plates.

If you wish to obtain duplicate plates with the same plate number, you can do one of the following:

a) Visit a motor vehicle agency to obtain the Application for Remaking an Existing Plate (Form SPU-89); or,
b) Download the application (Form SPU-89).
c) Call the MVC at (609) 292-6500 ext. 5061 to request the Application for Remaking an Existing Plate (Form SPU-89) and a return envelope.

Then, submit the application with a copy of your registration and a check or money order for $11 to the address on the application or use the return envelope if provided. Duplicate plates will be sent to you through the mail in approximately 10 - 12 weeks.
I am 19 years old and I have a permit with all the approvals. When I passed the road test in Delanco they couldn't issue my license due to a back log. They suggested the Springfield Office since I live in Summit. I went to Springfield , but they said I must make an appointment. How do I do this?