1140 Woodbridge Rd East Hazelwood Avenue Rahway, NJ 07065
Rahway, NJ 07065
United States
Location & Hours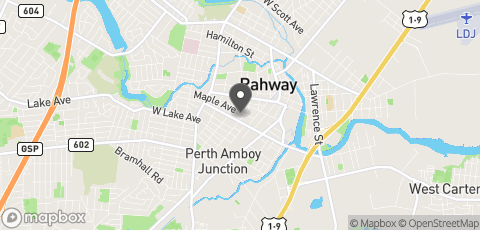 1140 Woodbridge Rd East Hazelwood Avenue Rahway, NJ 07065
Rahway, 07065
Additional Office Services & Hours
Type
Agency, Driver Testing
Hours of Operation
Wednesday - Friday:
8:00-17:30
Hours of Operation
Monday - Friday:
8:00-16:30
Hours of Operation
Tuesday - Friday:
8:00-16:00
Office Services
Titles, Licenses, Registrations, Abstracts (certified, five-year)
Vehicle Inspection
Vision and Knowledge Tests
CDL Written Test
Basic Road Test
CDL Road Test
Motorcycle/MOPED Road Test)
Notes
Customer service representatives are eager to assist you in-person at local motor vehicle agencies. To reach MVC by phone call (888) 486-3339 toll-free in NJ or (609) 292-6500 from out of state. Agency, Driver Testing Inspection Road Testing Agency, Driver Testing
DMV Practice Tests
Get ready for your written test with one of these Great Practice Tests:
Reviews and Tips
The wait was extremely long because this wasn't long after the DMV's opened up and it was I believe the end of the week or a Saturday. The place was easy to find and there was plenty of parking. Everyone had to socially distance and wear a mask. Normally it never gets this busy however this a popular DMV location and NJ has a lot of people so I could see why there was such a rush.
The place was extremely busy that day probably due to the COVID restrictions that were in place for months before it reopened. There was a long wait and the staff weren't very friendly. Once I was able to get in it didn't take long and the place was well organized, but I wanted to get out of there as quickly as possible.
Parking here was challenging. Despite COVID limits there were few parking spots available. This is partially due to mounds of snow blocking some parking spots. There was a long line of people wrapping around the building because staff were enforcing capacity limits inside the Motor Vehicle building. At first I wasn't sure if this line was for anyone or for those with appointments. A staff member found me and sorted things out by confirming I had an appointment. The NJ motor vehicle commission was only servicing those who had appointments. All others were only allowed inside to pick up forms. Once inside it was a fairly standard experience. There were few other patrons, and since I had an appointment I was helped in roughly half an hour. The staff weren't grouchy but they weren't particularly friendly either. However, they performed their job satisfactorily. I would recommend people who visit Rahway get to their appointment as early as possible because the line outside can be long. The line isn't in any particular order despite your appointment.
Questions and Answers
There are no questions yet, be the first!