5700 Southpoint Centre Boulevard Fredericksburg, VA 22407-2601
Fredericksburg, VA 22407
United States
Fredericksburg DMV Location & Hours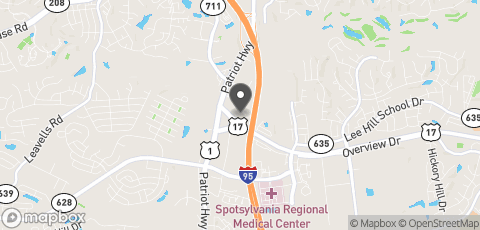 5700 Southpoint Centre Boulevard Fredericksburg, VA 22407-2601
Fredericksburg, 22407
Virginia DMV Office Services
Notes
E-ZPass and E-ZPass Flex sold
.
HAZMAT background check applications and fingerprinting are at this location.
DMV Practice Tests
Get ready for your written test with one of these Great Practice Tests:
Virginia DMV Reviews and Tips
Make sure to make an appt due to covid. Bring all of your documentation with you. If for some reason you don't have everything still go inside. The staff can give you a better reschedule appt date than you can find if you leave and do it online. The staff was very friendly.
The staff was very friendly and helpful. Be sure to make an appt due to covid and arrive with all of your documents. If you get there and you're missing something they can reschedule your appt at a much sooner date than if you try to it yourself on line.
As always the line was long and seemed to move very slow and that was just to get to the info/sign in booth and get a number. Then I had to find a seat and wait even longer for my number to be called. Once my number was called I got what seems to be the most unhappy person I ever deal with. These people seem to be on some sort of power trip.
Questions and Answers
There are no questions yet, be the first!