Nevada Department of Motor Vehicles
1780 E. Basin Ave.
Suite 1
Pahrump, NV 89060
United States
Pahrump DMV Location & Hours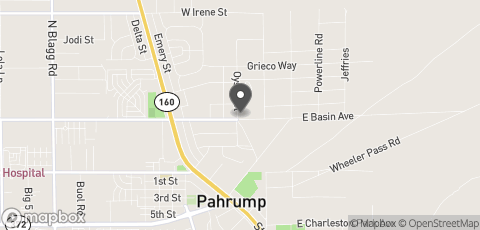 1780 E. Basin Ave.
Pahrump, 89060
Pahrump DMV Office Services
Address Change
Drivers License
Driving Records
Learner's Permit
Name Change
Provisional License
Registrations Renewals
State Inspections
Vehicle Registrations
Vehicle Titling
Pahrump DMV Payment
Cash
Check
Credit Card
Debit
Money order
Pahrump DMV Office Notes
The Pahrump DMV Office remains Walk-in based. Appointments are required for all driving skills tests.
People who live in Urban areas are discouraged from driving to rural DMV offices for service. Rural DMV Offices may turn away customers from out-of-area if the offices are at their maximum service capacity.
General DMV services are walk-in only at rural locations except for the Carson City office. Appointments are required for all Driving Skills tests at all Nevada DMV Locations.
Don't Forget to Leave a Review!
Let us know how this location handled your transaction. Did you have any issues?
Pahrump Nevada DMV Reviews and Tips
I had a wonderful experience At the Pharump NV location ithink his name was Tyler and the young girls name Brianna I hope I got it right real pretty long back hair sits to the left. Second desk she sits at. I went in there they were very busy and she told me to come back in 30 min to get my car inspected I have been trying to do this for 4 months but she took the time away from her lunch to help me out, she was so nice and understanding she got it all set up for me to come back and I did she sent me to Tyler's and he jumped right in to help me get the car tagged He was helping two people at the same time he was so great in taking the time to do what he did . I'm saying I wish they were all this helpful Thank you guys you were the best and u do your job so very well.
Katherine Antonio
The 2002 chrysler 300
From Az 30 day permit
Questions and Answers
Hello,

To contact one of the Nevada DMV office locations, please visit https://dmv.nv.gov/contact.htm .

I am trying to get a hold of someone at the Parumph Nevada DMV but the phone listed is not working. How can I make an appointment there?
You can only make appointments for road testing. For drive test scheduling you can go here https://dmvapp.nv.gov/DMV/DL/DriveTestSchedulerPublic/DriveTest_Input.aspx
If I live in Vegas can I go to dmv in pahrump to get a Id card
You may go the Pahrump office, but you do risk being turned way if they are understaffed or overly busy. You'll also want to get there early. You can't make an appointment, but you may be able to get services done on a walk-in basis.
How much to renew license?
Hello, I purchased a car in the state of Florida with a certificate of destruction. I have fixed the car from the flood damage. I woud like to know how to get it registered.