Appointments are Required (except on Saturday)
Nevada Department of Motor Vehicels
2621 E Sahara Ave
Las Vegas, NV 89104
United States
Las Vegas DMV Location & Hours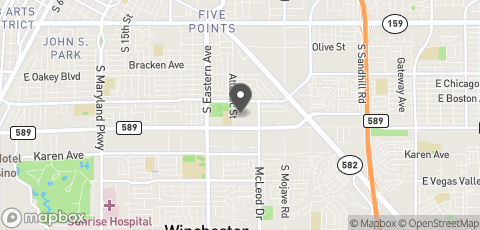 2621 E Sahara Ave
Las Vegas, 89104
Las Vegas DMV Office Services
Address Change
Drivers License
Driving Records
Learner's Permit
Name Change
Provisional License
Registrations Renewals
State Inspections
Vehicle Registrations
Vehicle Titling
Las Vegas DMV Payment
Cash
Check
Credit Card
Debit
Money order
Las Vegas DMV Office Notes
The East Sahara Las Vegas DMV office is open Saturdays to walk-ins for limited services, such as original vehicle registration that cannot be completed online. When you arrive, you will receive a ticket that designates a specific time for you to return. Technology Fee refunds are not issued on Saturdays.
Monday - Friday Appointments are required. Except for vehicle moving permits. 
Don't Forget to Leave a Review!
Let us know how this location handled your transaction. Did you have any issues?
Las Vegas Nevada DMV Reviews and Tips
I found the location to be rather quick and not crowded though that was likely due to covid. You had to have an appointment and no walk-ins were accepted at all. You need to have all of your documentation with you otherwise you will be turned away and have to make a new appointment which can take a few months. The COVID procedures were rather good as masks and social distancing was required.
The location was very easy to find and there was plenty of space for parking out front of the building. The VIN inspection station is behind the building and the line for that was very short in the morning. The staff was fairly helpful but you were required to have an appointment when you got there. I had an appointment early in the morning and there were a significant amount of people waiting to get inside with out an appointment and they were all told to leave. Inside it was clean and rather empty. The COVID procedures at that time were 25% capacity in the building so being inside was socially distanced.
i have went to the office last month , it's nearly one to two weeks ago. i have went to the office using my vehicle. the place was very neat and clean. they sent me location map. so finding the place was very easy for me. before to go there i have contacted the office. the staffs were very helpful. they give complete guidance to me. so there is no difficulty to find and reach the place. after i reach there they took me temperature test and gave me gloves , mask and sanitizes. and ask me to not touch anything with bare hands also they gave me covid 19 safety procedures. the parking was bit difficult. very small car parking. so i can not able to park my car easily. but the staffs were helpful.
Make sure you have any paperwork you need to turn in already printed and filled out by the time you get there. That way you get through it faster and you don't make others wait even longer to get in. Make sure you get in the right line and if you do have an appointment know that they wont let you in any earlier then 15 minutes prior to your appointment time. Make sure you have a face mask and understand that only you can go in the building no one else can go with you.
Questions and Answers
Why, when I fill out a form for an appointment at the Sahara office the application will not accept my phone number
Hello,

We would be able to answer this question better if we had more information. It could be that you are attempting to create a "new" account, and already have one with that phone number or it could be that you are inputting the phone number in the incorrect format.

Please provide us with more information if you still need assistance.
I lost my ID I'm a naturalized American citizen and I was born in cuba.i had a DL the xpired I will like to get a regular iD. But I don't have any of my papers. Can I apply w my ss disability letter n my Medicare card or my nv voter registered card?
What is the inspection number