Appointments are Required (except on Saturday)
Nevada Department of Motor Vehicles
1399 American Pacific Dr.
Henderson, NV 89074
United States
Henderson DMV Location & Hours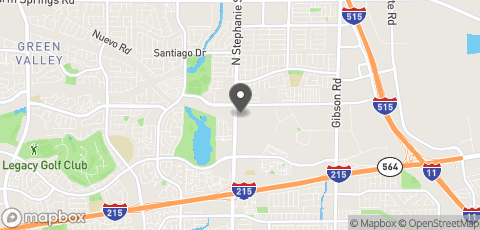 1399 American Pacific Dr.
Henderson, 89074
Nevada DMV Office Services
Address Change
Drivers License
Driving Records
Learner's Permit
Name Change
Provisional License
Registrations Renewals
State Inspections
Vehicle Registrations
Vehicle Titling
Nevada DMV Payment
Cash
Check
Credit Card
Debit
Money order
Notes
The Henderson DMV office is open on Saturdays to walk-ins only and for limited services, such as transactions that can not be completed online. When you arrive, you will receive a ticket that designates a specific time for you to return. Please note technology Fee refunds are not issued on Saturdays.
Monday - Friday Appointments are required. Except for vehicle moving permits. 
Don't Forget to Leave a Review!
Let us know how this location handled your transaction. Did you have any issues?
Nevada DMV Reviews and Tips
First of all, getting an appointment at this location was not easy. There was initially a wait of about 3 months, but because I was a new state resident, they moved my appointment up. Definitely arrive on time, where you will get to wait in a socially-distanced line. For me, they had me do a lot of things prior to my appointment, like taking my car to get inspected and smog checked. So if your vehicle is going to need one of these, make sure to do it before your appointment.
The place was well lit and had good ventilation, everybody was keeping their social distance. The staff was fast and efficient.
I really like this DMV location because they are always so much faster than any other i've ever been to, and the staff is so much nicer! I'd recommend to anyone who's looking for a DMV office that wont make you wait around all day for an appt, and that is kind and cares about their customers.
Made appointment online a month prior to my date to renew my driver's license. Arrived with all necessary paperwork, the lady at guest counter directed me to an area to wait for renewal while I check in. I waited about 10 minutes before my number was called. Once seated with the service rep, my documents were promptly reviewed, I paid my fees which matched the estimate online, and then proceeded to wait in a different area to get my photo taken. My name was called about 15 minutes later, I got my photo taken and my ID available. All in all this took under one hour with the scheduled appointment, so I highly recommend confirming an Appointment slot online rather than the old fashioned way of going in and wait and pray. The seats were separated and social distanced in COVID, and I did see a few associates wipe down the counters. Parking was easy to find as the parking lot was big.
Good morning, I would like to acknowledge one of your employees: Leslie, from when we sat down until completion she went Above and Beyond, in taking care of our business. We Appreciated for how she handled everything. Thank you so very much DMV and all your awesome employees. Aloha, Mr. & Mrs. Van & Annette de Guzman
Questions and Answers
how do you book an appointment
Hello,

Services are offered on an appointment-only basis at Nevada DMV office locations. Please visit https://dmv.nv.gov/appointments.htm to book an appointment for general services or a drive test.

Please keep in mind that the route to schedule an appointment for General Services is different from the route to schedule a drive test. Drive tests can be scheduled up to 60 days out and you must have a valid permit. If your permit is not up-to-date, please call your local DMV office.
How do I get a vehicle moving permit ? ( I need to register my vehicle in NV. Plates expire in May—-have appointment May 18—need something so I can drive until then)