3114 Lee Boulevard 33971, Bldg-B Unit 6, Lehigh Acres, FL
Lehigh Acres, FL 33971
United States
Office Services
Motor Vehicle services
Vehicles
Trailers
Vessels
Mobile homes
Specialty tags
Disability parking permits
Driver License services
Driver License
ID card
Reinstatements
Written and skills exams
Notes
Mon-Fri 8:30am-5pm
Limited Driver License Services

Additional Office Services & Hours
Hours of Operation
Monday - Friday:
8:30-17:00
Hours of Operation
Monday - Friday:
8:30-17:00
DMV Practice Tests
Get ready for your written test with one of these Great Practice Tests:
Location & Hours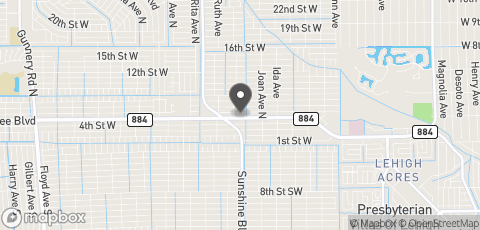 3114 Lee Boulevard 33971, Bldg-B Unit 6, Lehigh Acres, FL
Lehigh Acres, 33971
Reviews and Tips
Arrived early and there was barely anyone else there. The process to switch my license from out of state was easy and quick.
The location was very easy to find. I did not have to wait long as i had an appointment. Parking was easy enough and i was able to get a spot pretty quickly. I had to wear a mask and there were 2 lines one for people with appointments and one for walk-ins. I would recommend making an appointment as you will get in and out quicker then a walk in and make sure to have all your paperwork with you!
They were quick and efficient and helping me complete what I needed to do. They required everyone to wear masks and it was easy to locate. The only suggestion is that there needs to be more parking options because the parking lot can get jammed.
Called the phone number that's online time and time again to receive answers for simple concerns and the only thing I received was the hold line saying all representatives are busy or something along those lines. Whoever is working in the DMV must be lousy low lives I could not imagine them any other way or what they could possibly be doing but it sure isn't their job the right way. No good citizen wants to have their time wasted by the people who applied to help out the Lee county community. Decide on a new slogan or oversee these departments better or even easier do not show up to "work" at all just to be lazy. The person not picking up and ignoring calls should be permanently terminated. They must fail to realize others would do almost anything to have their job or any type of employment and would do their jobs better. Treat others how you want to be treated I've even experienced this with medical centers in Lee county. Do better, live better. Sick of ignorant people no idea who they think they are but do not beg for your job when the time up. Hope Noelle Branning not only sees this but has the guts and respect to do something positive about it. 239-533-6000 has zero respect from me. If it's too hard for you do us all a favor and quit!
Questions and Answers
There are no questions yet, be the first!