1039 SE 9th Avenue, Room 102, Cape Coral, 33990, FL
Cape Coral, FL 33990
United States
Office Services
Motor Vehicle services
Vehicles
Trailers
Vessels
Mobile homes
Specialty tags
Disability parking permits
Driver License services
Driver License
ID card
Reinstatements
Written and skills exams
Notes
Mon-Fri 8:30am-5pm
Limited Driver License Services

Additional Office Services & Hours
Hours of Operation
Monday - Friday:
8:30-17:00
Hours of Operation
Monday - Friday:
8:30-17:00
DMV Practice Tests
Get ready for your written test with one of these Great Practice Tests:
Location & Hours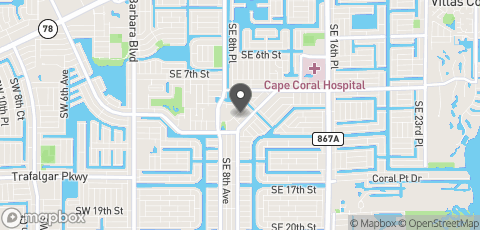 1039 SE 9th Avenue, Room 102, Cape Coral, 33990, FL
Cape Coral, 33990
Reviews and Tips
Parking was a little difficult but not terrible. I was very pleased when I saw someone wiping and cleaning the entire time I was at the office. The only real things I was not happy about were also covid related. There were clients there with no mask or with their noses hanging out and nobody bothered to say anything. On that same note, a number of the staff were the same way. I had to ask the woman helping me to first put on a mask and then had to ask her to pull it over her nose. It was pretty clear she was not pleased. Also the waiting area chairs were in no way 6 feet apart. I was very uncomfortable waiting for my turn.
Questions and Answers
There are no questions yet, be the first!