501 South Congress Avenue, Delray Beach, 33445, FL
Delray Beach, FL 33445
United States
Office Services
Motor Vehicle services
Vehicles
Trailers
Vessels
Mobile homes
Specialty tags
Disability parking permits
Driver License services
Driver License
ID card
Reinstatements
Written and skills exams
Notes
Mon-Fri
DL: 8:15am-3:30pm
MV:8:15am-5pm
CDL Hazmat
Limited Driver License Services
Please send all mail correspondence to: PO Box 3715, West Palm Beach, FL 33402

Additional Office Services & Hours
Hours of Operation
Monday - Friday:
8:15-15:30
Hours of Operation
Monday - Friday:
8:15-17:00
Location & Hours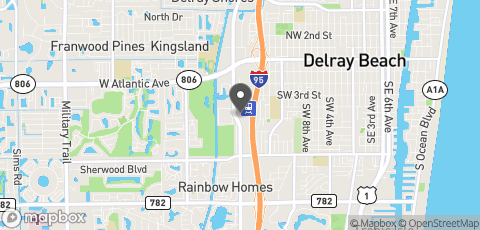 501 South Congress Avenue, Delray Beach, 33445, FL
Delray Beach, 33445
Questions and Answers
There are no questions yet, be the first!
Reviews and Tips
It was hard to find the location because the GPS didn't lead me to the correct place... and the DMV wasn't clearly labeled (it instead has a sign that it's the "tax collector," and even that sign is hard to see). There was pretty much no wait since everyone had strict appointment times. The staff was nice and directed me how to follow the COVID protocols (e.g., whether I should wear my mask for my photo). However, apparently I could have paid extra to get a special type of license that would have allowed me to travel without a second document, and no one offered me this... so now, as I understand, I will have to take my passport on a plane with me to prove my identity?