Greenacres Tax Collectors
4215 S. Military Trail
Greenacres, FL 33463
United States
Greenacres DMV Location & Hours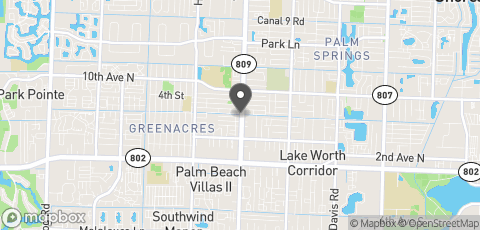 4215 S. Military Trail
Greenacres, 33463
Florida DMV Office Services
Driver Licenses
Driver Licenses: Original, Duplicate & Renewal
ID Cards
Learners Permits
License Plates
Motor Vehicle
Tax Department
Vehicle Title & Registration Transactions
Florida DMV Payment
Cash
Check
Credit Card
Debit
Notes
The Greenacres Tax Collectors office (Lakeworth DMV) is by Appointment Only you can book your appointment here.
Open Mon-Fri
Drivers License Services: 8:15 am-4:30 pm
Motor Vehicle Services: 8:15 am-5:00 pm
Additional Services
Digital Fingerprinting
TSAPreCheck
Hunting and Fishing Licenses
Florida Birth Certificates
SunPass
New Business Listing Subscription Service
DMV Practice Tests
Get ready for your written test with one of these Great Practice Tests:
Florida DMV Reviews and Tips
Supervisors and Managers Please take notice, The service at this location is horrible. The attitude have to change. They work to serve the clients not the other way around. I was there today 7/2/2019. I had a horrible experience and worse I witness about four other person having a lot of difficulty about how they were treated. I went to ladys room. I heard my number called F165 station 38. I rush out but is a long way from bathroom to station 38. I reach counter hand the lady my number and id. She returned and said take a sit because I just called 166. I was stunned because it was my turn. I was there and she skip me. she said she put me in the system.they called 167 thru 179 before they called me. I was there and extra hour. She had a choice and could have accommodated me. But the attitude is sooo wrooong. I witness about 4 other clients . They are laughing and calling security. Its ovious the do not believe their job is to serve the clients whom ever they are in a corteous respectful way. Very bad service no symphaty, wrong attitude . Please take notice
.
Yesterday was the first day that i have ever receive a such shockingly dreadful customer service at the DMV Office on 3551 S. Military Trail Lake Worth, FL 33463 . I don't even know to where to begin. I went there for title transfers. As soon as it was my turn at the front desk, the lady started insulting me. 1) Told me that i should not have the last name i have because i'm from the Caribbean. 2) She said she will do whatever it takes to change it. 3) She said i speak English too properly for a Haitian. So many things came into my mind to do or say to the old lady but i did not do or say a thing. She gave me a number and i went to the waiting area. After a long wait about 3 hours, they finally called my number as soon as i arrived to the representative counter desk, i said hello then she replied how can i help you. I said I'm here for title transfers. She looked at my paperwork bewilderingly then she finally called her supervisor who floundering managing the situation made it worse. I was melancholy explained the situation to the supervisor then she called security and i take my paperwork and left. It's obvious that the representatives are careless and showed no sign that they have any kind of education or experience to do this job. HORRIBLE, HORRIBLE, HORRIBLE.
Questions and Answers
There are no questions yet, be the first!