1135 Banks Rd, Margate, 33063, FL
Margate, FL 33063
United States
Margate DMV Location & Hours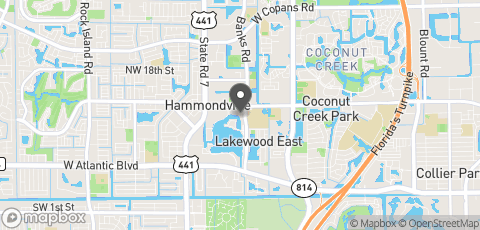 1135 Banks Rd, Margate, 33063, FL
Margate, 33063
Florida DMV Office Services
Driver License services
Driver License
ID card
Reinstatements
Written and skills exams
Notes
Mon-Fri 8am-5pm
Make Appointment Online-All Services CDL Hazmat

DMV Practice Tests
Get ready for your written test with one of these Great Practice Tests:
Florida DMV Reviews and Tips
I had no problems finding this office. You need to wear a mask. There was plenty of parking out front in the shopping center. There was a short line outside of the office. They made sure that you had an appointment. Then they sent me straight inside to another quick, short line. I waited to be called to one of the stations afterwards. I had no problems with any of the staff. They were very polite and helpful. I liked how all the seats were six feet apart and I also liked how there were less people in the office. I actually think this procedure was a lot better than before the pandemic. I was in and out in less than an hour. I had to pay and then they handed me my new ID and I was done. I only have one complaint and that I did have to wait quite awhile until my appointment date.
Appointment Reminder - FLHSMVInbox

This is a friendly reminder you have an appointment with the Florida Department of Highway Safety And Motor Vehicles. YOU WILL NEED YOUR CONFIRMATION NUMBER ON THE DAY OF YOUR APPOINTMENT.
Confirmation number: 1036551175
Time: 05/12/2022 8:00 AM
Office: Margate - 1135 Banks Road
Office: Margate - 1135 Banks Road
Appointment type: 6. CDL Written/Endorsement Exam/Hazmat/Fingerprint
I went to this location to do the above confirmed appointment. Due to the behaviors of the undercover officials (COPS, PIG IN BLANKETS, ECT) I was harassed and denied the ability to complete the appointment. ERVENA, who was late to work, with those yeast infection jeans on, seemed to not understand how the appointment should be conducted. I then asked her to allow me to contact The CDL school that I'm attending for clarification. ERVENA was advising me that I could only take the Basic Knowledge portion. Nevertheless, since she is the employee, like a damn fool, I trusted her. I went ahead and adhered to her instructions. Upon taking my test, not only did employee ERVENA treat me as though I was trash, as she was advised to do by these officials (COPS, PIG IN BLANKETS, ECT). Other employees continued to stand near my testing site, which should be a quiet area, chanting that something smells of baby poop. Making statements that were just not appropriate or professional. Then there was another employee that continued to turn the lights in the office near my testing station on and off. At one point, I had to politely advise a couple of those employees to please go stand elsewhere or quiet down their conversation, as I was unable to focus. One of the employees, was nice enough to allow me to utilize my headphones to block the distractions. Appreciated it! However, upon taking the test a second time, ERVENA, who was positioned directly next to my station, started making comments in reference that she was "so called tired" and then she stated that I was stink. Now due to all these issues that the officials (COPS, PIG IN BLANKETS, ECT) continue to cause for me, of course I had to maintain my composure. The intent of these officials is to provoke me so that they can have an ACTUAL reason to incarcerate me, since I'm aware of these officials (COPS, PIG IN BLANKETS, ECT) participating in drug sales/trafficking. On a daily basis, these officials (COPS, PIG IN BLANKETS, ECT) make my life a living hell! From trying to run me over when walking in my neighborhood, trying to crash into my automobile, sending other citizens to harass me, pooping and or urinating at my front door, the list goes on. Nevertheless, there was other young ladies as well taking the CDL test and was also having issues with ERVENA'S instructions as well. Therefore, I had to engage in conversation with her to find out if she was experiencing the same issue as I. Especially since these officials (COPS, PIG IN BLANKETS, ECT) like to advise that these issues are all in my mind! However, the young lady indicated that this was her second time here and she is still having issues. Other people who needed assistance, as ERVENA was just being super rude and nasty, were coming up to me asking if I worked there! Why? In spite of all that was transpiring, I was still smiling and looking super professional. No yeast infection jeans here! With all that poor customer service that I began to witness, I had to speak to a supervisor. Her name was Jackie and she was very professional. When I explained to her the events that occurred, she immediately asked who provided me with the incorrect information and treatment. I advised Jackie that it was ERVENA. Jackie then apologized and offered the correct services to me as the appointment 6 indicates. Unfortunately, although I was remaining professional, inside, I was fueling! I already had been up all night, literally, no sleep studying, so I declined her offer. It was in my best interest to do so with all that happened. I'm sooooooo tired of these officials (COPS, PIG IN BLANKETS, ECT) continually setting me up and causing strife in my life. Time is something we can't get back in life. Therefore, wasting people's time and or showing up late to work, shows the lack of interest and respect for others' time. Which is not great customer service or experience! Also, just because the police advise you to disrupt someone's life, you don't have to adhere! You have the right to say no or not engage. Officials (COPS, PIG IN BLANKETS, ECT) aren't God, so have no fear and make them suckers do their own job! I bet she wasn't even paid anything extra to treat me as such! I wish you could have seen the look on her faced when I PASSED the test though! 


Questions and Answers
Walk-ins are accepted on a limited basis it's best to make an appointment.