104 Wilshire Blvd., Casselberry, 32707, FL
Casselberry, FL 32707
United States
Casselberry DMV Location & Hours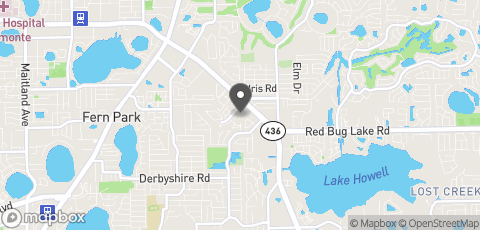 104 Wilshire Blvd., Casselberry, 32707, FL
Casselberry, 32707
Florida DMV Office Services
Motor Vehicle services
Vehicles
Trailers
Vessels
Mobile homes
Specialty tags
Disability parking permits
Driver License services
Driver License
ID card
Reinstatements
Written and skills exams
Notes
Mon-Fri
DL: 8:30am - 4:40pm
MV: 8:30am - 5pm
Limited Driver License Services
Driving tests by
Appointment Only DUI reinstatement service not available. Please see nearby counties for this service.

Additional Office Services & Hours
Hours of Operation
Monday - Friday:
8:30 am-4:40 pm
Hours of Operation
Monday - Friday:
8:30 am-5:00 pm
DMV Practice Tests
Let us know how this location handled your transaction. Did you have any issues?
Florida DMV Reviews and Tips
I visited this location back in July of 2020 when I was taking my daughter to get her Driver's License. The location is a bit hard to find, because it is nestled in a residential community and not easy accessible from the main road. However, the staff is very welcoming and friendly. At the time of my visit, this location was not accepting walk-ins and you could only get services by scheduling an appointment. Despite the fact that there may be a lot of people receiving services at this location, you actually get in and out in a decent amount of time, all things considered. I recommend making a checklist to ensure you have everything I need, because once they call your number and you don't have all your paperwork, you will have to reschedule. The staff is very professional, but no nonsense at the same time, so come prepared!!
Parking is limited, you may have to drive around the lot a few times. Signage can be difficult to see from the main road. Be sure to check in at the front desk and get forms needed before your number is called. Appointments are available from the main Tax Collectors website. People were somewhat socially distancing. Mask are required, but not enforced as some had no mask at all or took it off. Staff is efficient and friendly. There is a fee to pay with a credit card, so be sure to bring cash or a check ( no extra fees).
Questions and Answers
There are no questions yet, be the first!