University DMV Office - Orange Country Tax Collector
Services Provided to Orange County Residents Only.
Orange Country Tax Collector
10051 University Blvd
Orlando, FL 32817
United States
Last updated on:
04/25/2023 - 13:32
Orlando DMV Location & Hours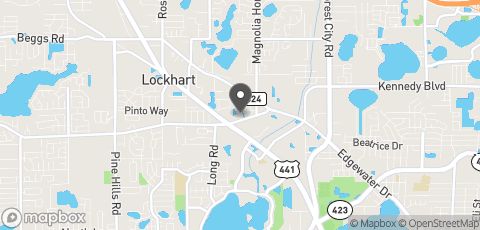 10051 University Blvd
Orlando, 32817
Orlando DMV Office Services
Real ID / Travel ID
Disability parking permits
Driver License
Driver License services
ID card
Mobile homes
Motor Vehicle services
Reinstatements
Specialty tags
Trailers
Vehicle Title & Registration Transactions
Vehicles
Vessels
Written and skills exams
Orlando DMV Payment
Cash
Check
Credit Card
Debit
Orlando DMV Office Notes
This Orlando DMV location provides Driving tests and CDL Hazardous Material Fingerprinting by appointment only.
 
Additional Office Services & Hours
Type
Driver's License Services
Hours of Operation
Monday - Tuesday:
8:30 am-5:00 am
Wednesday:
9:00 am-4:00 am
Thursday - Friday:
8:30 am-5:00 am
Type
Motor Vehicle Service Hours
Hours of Operation
Monday - Tuesday:
8:30 am-5:00 pm
Wednesday:
9:00 am-5:00 pm
Thursday - Friday:
8:30 am-5:00 pm
Don't Forget to Leave a Review!
Let us know how this location handled your transaction. Did you have any issues?
Orlando Florida DMV Reviews and Tips
The staff was mostly helpful, if somewhat rude. The wait was fairly long, despite the fact I had an appointment. The location is obvious and easy to find. The staff wore masks, as did most of the patrons. Tip: definitely make an appointment; without one you'll be waiting for several hours.
The staff was actually very nice at this location, which is a huge surprise to me when that happens at the DMW. Everything was very clean and I felt safe being there. I really had a good experience and I will remember this DMV the next time I need services done. It was crowded but they were able to help me out and I got out a bit quicker than I expected.
The location was easy to find but since it's near the university of central Florida, which has one of the highest enrolled student, and because of that there would always have a lot of people their. I went in the morning about 9:30am and waited for about an hour and 40 minutes. I lost my license and was trying to get a new replacement. The staff were helpful when I asked about what I need to bring when I get my replacement licenses ( I called before going). If possible I would try to get an appointment cause that would be the quickest and fastest way and if not try to go earlier when they open because later in the afternoon and evening it will be extremely pack. Finding the building wasn't at all difficult and was pretty easy to find and parking wasn't an issue either. Another tip I would also give is to be prepared to have all your documents and make sure you know what document is required and if your not sure what to bring then just called. Another thing that was good about them was the way they handle their COVID procedure. Overall I had a good experience and had no issue getting my license replacement.
A few days ago, I made an appointment for registration to change some title names. I get there and the clerk tells me I need to make an appointment for title services, and she cannot help me, even though I was also renewing the registrations too. So, I make an appointment for today and end up GOING TO THE SAME CLERK! Then she tells me they can only DO TWO TITLES! I have six to do. The other day she told me that if the clerk was NICE and not busy, they may do all of them. I reminded her of this and the told me only TWO! They were not busy and this is government bureaucracy at its VERY WORST! I now have to make appointments and go back two more times to get all 6 titles done. That is nuts!
Questions and Answers
I have to surrender my tag and cancel my registration since I no longer own a vehicle. Would there be any fees I have to pay?
Hello,

Your Florida license plate can be surrendered through the mail without having to visit the Department of Highway Safety and Motor Vehicles in person. To surrender your plate, you will need to download, complete, and submit the Surrender License Plate form along with your plate to:

Orange County Tax Collector
P.O. Box 545100
Orlando, FL 32854

Here is the form to surrender your FL license plate: https://www.octaxcol.com/assets/uploads/2020/09/Surrender-License-Plate-by-Mail-1.pdf
If I need to change my driver license to a non-driver license, do I have to pay?
Yes.

When you surrender your Florida driver's license and apply to obtain a Florida ID card, the fee for the new card is $25.
if i am military, under orders my home of record is in orlando. can i send my mother to get my DL reissued with valid dates?