Lake Mary DMV Office:
845 Primera Boulevard, Lake Mary, 32746, FL
845 Primera Boulevard, Lake Mary, 32746, FL
Lake Mary, FL 32746
United States
Last updated on:
01/26/2016 - 04:21
Lake Mary DMV Location & Hours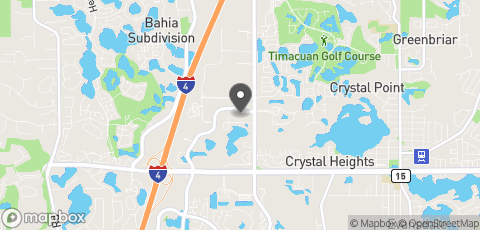 845 Primera Boulevard, Lake Mary, 32746, FL
Lake Mary, 32746
Lake Mary DMV Office Services
Motor Vehicle services
Vehicles
Trailers
Vessels
Mobile homes
Specialty tags
Disability parking permits
Driver License services
Driver License
ID card
Reinstatements
Written and skills exams
Lake Mary DMV Office Notes
Mon-Fri
DL: 8:30am - 4:40pm
MV: 8:30am - 5pm
Limited Driver License Services DUI reinstatement service not available. Please see nearby counties for this service.

Additional Office Services & Hours
Hours of Operation
Monday - Friday:
8:30 am-4:40 pm
Hours of Operation
Monday - Friday:
8:30 am-5:00 pm
Don't Forget to Leave a Review!
Let us know how this location handled your transaction. Did you have any issues?
Lake Mary Florida DMV Reviews and Tips
Very helpful staff and very friendly! This was probably the most personable trip to the DMV I've ever had. Probably the nicest DMV staff I've ever encountered in my 28 years of driving. This was my first trip to this location and I will definitely return. It was a lot less crowded than any other locations I've been to in Florida, and they got me in and out of there pretty quickly.
Very nice and easy to locate facility. Parking can be difficult because it is in a strip with multiple other businesses. The wait was not terrible, but I did wait longer than the actual amount of time I needed for the appointment.
The location was easy to find, but it was sorta hard to spot the actual dmv. Every office looks the same, and they don't have the office name on the building. They only have the name in small writing on the doors of each office. Parking is pretty easy and there is plenty of it. You must make an appointment currently and wear a mask when you attend your appointment.
Questions and Answers
What do I need to get an id for my 16 year old son
To get an ID card for a Florida teenager, you will need to show proof of date of birth, proof of residential address, and proof of social security number. Since your child is younger than 18 years old, he will also need a statement from a parent, step-parent, or legal guardian. The child must also live at home with said guardian, and the guardian will need to show proof that they share a residence.