3665 Flora Vista Ave, Santa Clara, CA 95051
Santa Clara, CA 95051
United States
Office Services
Driver License and ID Card Processing
Vehicle Registration
Notes
Saturday office hours are by appointment only and exclusively for driver license transactions.
DMV Practice Tests
Get ready for your written test with one of these Great Practice Tests:
Location & Hours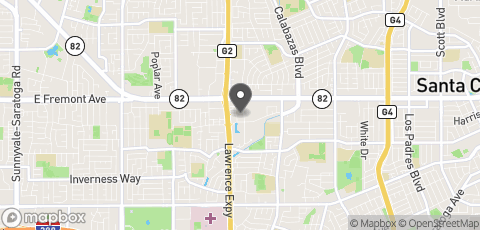 3665 Flora Vista Ave, Santa Clara, CA 95051
Santa Clara, 95051
Reviews and Tips
The staff was very nice. My wait wasn't that long, but I went right when they opened. There was lots of parking when I arrived. They take your temperature and ask several COVID-related questions before you enter the building. They also only let a few people in at a time. I was able to go do a walk-in service but not all services allow for a walk-in during this time.
The parking was easy. I was there before it open as I did not make an appointment, I tried to get in line. The line was so long even it was early and when they open, I was given a ticket number. The waiting was almost 5 hours before my number. There were many seats available to sit and wait so I managed to get my work done on my laptop while waiting. Finally when it was my turn, the staff was helpful to process my application. It was a long wait but I am glad I managed to get everything done smoothly.
Staff were nice and helpful because I forgot to bring my bar code. Wait was ok. I liked the multiple screens saying which window to go to (better than a loud speaker system). I saw that the line grew a little long when I left so they could maybe direct those people better as opposed to fend for themselves. Maybe rope off a section of the parking lot so when line does get long, it automatically goes there.
The Staff were all very friendly, and would always check you had everything you needed, Business Manageress (Natalie) was extremely helpful during my stay,
Questions and Answers
There are no questions yet, be the first!