119 W. Rogers Blvd.
Skiatook, OK 74070
United States
Skiatook DPS Location & Hours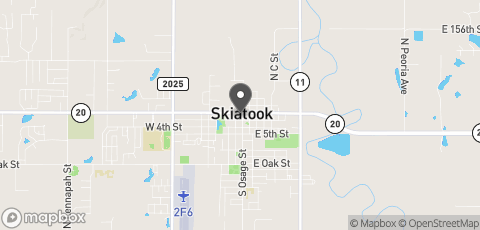 119 W. Rogers Blvd.
Skiatook, 74070
Skiatook DPS Office Services
Drivers License
Learner's Permit
Provisional License
Address Change
Name Change
Driving Records
Registration
Registration Renewal
Title Replacement
Title Transfer
Other Registrations
Skiatook DPS Payment
Cash
Credit Card
Check
Money order
Skiatook DPS Office Notes
Don't Forget to Leave a Review!
Let us know how this location handled your transaction. Did you have any issues?
Skiatook Oklahoma DPS Reviews and Tips
This is not the only issue I have had with this tag agency/business but it is the most recent one that prompted this review below.

Tried 3 times to renew my license here.

•1st attempt on a Friday at 9AM and was told "Sorry, we only do licenses on Tuesdays, Wednesdays and Thursdays because we are too busy on Mondays and Fridays with tags and titles. You can go to Oolagah (30 minute drive, 1 way)" I looked around and there was literally 2 or 3 workers behind the counter and only myself and 1 other customer in the lobby.

Yup, you seem too busy....
(last time they sent me to another tag agency, they didn't even do what I was requesting)

What is the difference in processing a tag/title and renewing a license? It is still servicing the customer! Sorry you have to go to a different computer to take the picture and print the license....

•2nd attempt on a Wednesday. Walk in at 12:05 PM on my lunch hour with 2 customers in the lobby plus myself. 1 customer leaves so I walk up to the counter and I was told "Sorry, we don't do licenses from 12PM to 2PM. The license hours are posted on the front door, you will have to come back after 2 when my girl gets in."

After explaining this was my 2nd attempt to renew it, Paula Taylor (the owner) only tells me "My license hours are posted on the front door" then calls for the next customer.

So does only 1 person know how to renew/print a license at your tag agency?
Perhaps you need to cross train or as an owner you need to know how to renew/print a license as well.

The "license hours":
This is no joke, maybe a 4"x5" piece of paper taped on the inside of the door window with the license hours on it along with many other things taped to the inside of the door windows.
I'm so glad I took my lunch hour to drive to your front door to see your special hours for licenses.

•3rd attempt
I was able to get to the tag agency 15 minutes before close.
I walk in and the lady from the first attempt was organizing the magazines on the lobby table and turns to me asking if she could help me.
Told her I needed to renew my license.

"I'm sorry we close in 10 minutes and that machine is already turned off. You can come back tomorrow but we don't do them from 12-1"

I thought it was 2PM because that is what she told me today (pointing at the owner behind the counter.)
"I don't know why she would say that because it is 1PM"
So which is it?
She says 2PM, this license hours paper (pointing at the paper on the door) says 2PM, you say 1PM but there is no other place this is noted besides what you say and on that paper?

This Tag Agency lacks any kind of professionalism or customer service.
-Special hours for specific services basically on post-it notes taped in the window and not online.
-Printed out pages on a cork board about tag agency closure for a week due to vacation.
-dmvoffice.net and countyoffice.org shows basic Mon-Fri hours
(M-F 9A-5P)
-No consistent business hours online across DMV sites and Google.
-Close at 3PM on Fri, the one day most people could likely leave work a little early to get stuff taken care of like vehicle registration and license items.
-No special hours listed anywhere for specific services like licenses besides the front door (not online or their Facebook)
-Closes random days and posts on Facebook for notifications ("holiday hours", "New hours this week", "need an extra day on the weekend", "vacation" etc)
-No willingness to help the customer or understanding that people work during the day and can't always take off or leave work to accommodate your random hours
-Treat customers like they are stupid for not seeing your post-it note hours stuck to the door window with 15 other things.

This tag agency doesn't appear to be accredited with the BBB as they don't come up like other tag agencies when searching the BBB site.

Tag Agency offices are privately owned. Take your money to another tag agency that actually has some professionalism, customer service and the owner actually cares about their customers instead of quoting post-it notes on the walls or windows then dismissing you.
Questions and Answers
There are no questions yet, be the first!