St. Cloud Office - Osceola County Tax Collector
Appointments are required.
Osceola County Tax Collector
1300 9th Street
Suite 101B
St Cloud, FL 34769
United States
Last updated on:
10/13/2022 - 13:16
St Cloud DMV Location & Hours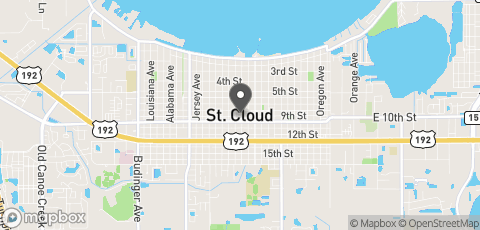 1300 9th Street
St Cloud, 34769
St Cloud DMV Office Services
Real ID / Travel ID
Address Change
Disability parking permits
Driver License
Driver License services
ID card
Mobile homes
Motor Vehicle services
Reinstatements
Specialty tags
Trailers
Vehicles
Vessels
St Cloud DMV Payment
Cash
Check
Credit Card
Debit
St Cloud DMV Office Notes
The St. Cloud Branch of the Osceola County tax collector's office offers Concealed Weapon Permits, does not offer road & written tests. 

No written or driving road tests offered at this office. This location does not convert out of state license to Florida. Services Provided to County Residents Only.

Appointments can be made here: https://osceolacal.cxmflow.com/Wizard/Services
Don't Forget to Leave a Review!
Let us know how this location handled your transaction. Did you have any issues?
St Cloud Florida DMV Reviews and Tips
Located in the city hall building that is on the right side facing in front of the building. Just look for St. Cloud city hall, tax collector/DMV are together.
The staff was great and the wait time didn't even seem to exist. I was met with a friendly staff that cared about me and wanted the best for me. I really enjoyed the people that worked there and felt included by them as well. I remember the front desk person actually took the time to talk to me and that made me feel really good about being there. The actual visit seemed to take no time at all and that made me really happy. I felt like I was barely there cause they made the experience so seamless.
Recently married and needed new license. This office was neat, clean and everyone was so nice. Wait time was @ 15 mins for my turn. In and out time @ 30mins. My ONLY suggestion would be to put a DMV sign on the door. Only sign was a tax sign so I thought I was in the wrong place at first. 4 star is only because it's not clear where to go.
I am a disabled person who happened to be temporary, disabled and wizard discharged from the hospital. My drivers license was lost due to a lot of activities that my family had to experience. However, when we went to this facility and I was in the wheelchair and could not stand up due to me, being discharged just recently, the teller, took my drivers license and told me to stand up. I said to her I'm just temporary disabled and I will be going through rehab so there's no need to take my drivers license. Instead, she came back and said that the supervisor agreed that I could not get my drivers license back or renewed. Therefore, I feel like they do not understand ADA guidelines as it relates to persons who are disabled. Now that I have undergone rehabilitation and can't drive. It's creating a lot of issues for me in terms of keeping my car insured and other matters. I just wish the hell it would've been more sensitive to the issue at hand, and being more understanding that my situation was only temporary and that I could not drive I need a reasonable person would've said the same thing. Not everything can be fixed by giving a state ID when a person has been driving since they've been 16+ years of age
Questions and Answers
My Indiana ID Expired 1 Year Ago Now I'm Trying To Get A Fl ID How Can I Do That
My Indiana ID Expired 1 Year Ago Now I'm Trying To Get A Fl ID How Can I Do That
can I get a Lerner permit from this location that was passed online.