​​​​​​​Services are Provided to Orange County Residents Only.
Orange Country Tax Collector
730 Sand Lake Rd
Suite 106B
Orlando, FL 32809
United States
Orlando DMV Location & Hours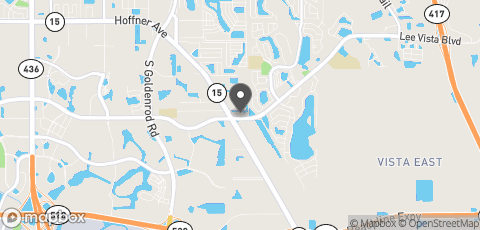 730 Sand Lake Rd
Orlando, 32809
Florida DMV Office Services
Disability parking permits
Driver License
Driver License services
ID card
Mobile homes
Motor Vehicle services
Reinstatements
Specialty tags
Trailers
Vehicles
Vessels
Written and skills exams
Florida DMV Payment
Cash
Check
Credit Card
Debit
Notes
Located in the Terrace Mall, Sand Lake DMV Services are provided by the Orange country tax collector office. 

Driving Tests by Appointment Only.

Appointments are available for all other services. You can book appointments here: https://www.octaxcol.com/
DMV Practice Tests
Get ready for your written test with one of these Great Practice Tests:
Florida DMV Reviews and Tips
This is the worst DMV I've ever been, this ppl made me wait more than an hour for my ID and then they just told me, I should go home cause they will send it to me. The worst... cut my before ID they send me home with no ID. This ppl is not professional, they are not polite and they are so stupid that they don't even pay attention to give the right information, just talking between them, paying attention to their phones, not doing a good job, this ppl don't even greet the guest... omg, I just starting hating here... WORST EXPERIENCE EVER and WORST COSTUMER SERVICE...
Staff was okay, not very friendly but not rude either. Did not have to wait long to be helped. The place was clean and not messy.
WORST DMV THERE IS. i moved from out of state and my license plate from that state expired and i had already gotten a florida license, so i made an appointment to try and get another plate. they didn't see me until an hour after my appointment time, and the clerk had attitude with me as soon as i walked up to the counter. told me i made the wrong type of appointment, even though the hyper of appointment i needed, wasn't an option to select when making the appointment and that she wasn't gonna help me at all. i already have a paper license plate on the back of my car (like the ones you get when you buy a new car) that's been expired for months, and i already told her it's expired and i said what happens when i get pulled over by police, she said "that's not my problem". well actually it is, because she is what's keeping me from getting the plates. i had all the paperwork i needed, proof of florida insurance, the rights signed over to me from the co-signer. everything. i have been trying to get a florida license plate since january and still have failed with the dmv. for 7 months i have had countless appointments and have always came out empty handed. i will NEVER be returning to this location and i suggest you do the same
I had to have my temperature taken before being allowed to sit and had to have made an appointment. Making an appointment was easy and the wait wasn't really that long. I got in and out rather quickly.
Rachel window # 3 she was very nice and kind agent she resold my situation very friendly thankfully.Sand lake DMV.


Getting an appointment and obtaining a replacement for my lost driver's license was surprisingly easy during COVID and also during a Holiday week. I was pleasantly surprised with the great service, little to no wait time, and the coaching by the staff. Thanks.
It was overall perfect, no flaws to be identified.
Today the lady at window 23 was extremely patient and understanding and truly tried to help us. It is not everyday we see people like that. We are extremely grateful.
So i went into this place and tried to switch my license ove because i moved from a different state, and this douchebag decided that even though i had more than enough proof of who i was it wasn't enough to get my license changed over from the state i was in to this one and then after being a jerk about it tried saying that it's because this is the sunshine state and there are rules that must be upheld so i need even more proof on top of already having my social security card and drivers license.
Questions and Answers
Do you need an appointment for an ID
I have almost 30 years old driving license from UAE. What is the procedure to convert my UAE driving license to US driving License.