1664 SE Walton Road, Port St. Lucie, 34952, FL
Port St Lucie, FL 34952
United States
Office Services
Motor Vehicle services
Vehicles
Trailers
Vessels
Mobile homes
Specialty tags
Disability parking permits
Driver License services
Driver License
ID card
Reinstatements
Written and skills exams
Notes

DL: Mon-Fri 9am-4:30pm
MV: Mon-Fri 9am-5pm
Limited driver license services.
Make Appointment Online No driving tests at this location.

Additional Office Services & Hours
Hours of Operation
Monday - Friday:
9:00-16:30
Hours of Operation
Monday - Friday:
9:00-16:30
DMV Practice Tests
Get ready for your written test with one of these Great Practice Tests:
Location & Hours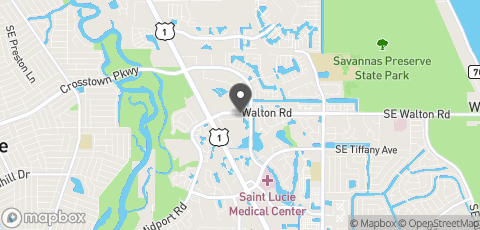 1664 SE Walton Road, Port St. Lucie, 34952, FL
Port St Lucie, 34952
Reviews and Tips
I must confess for not having an appointment they certainly got me to see someone rather quickly. Sure they allowed those who had appointments to move to the front of the line but I was taken back with how we were allowed to enter the main line so fast. I appreciated the fact they made sure everyone wore a mask and they do electronic temperature checks as well. Most businesses still seem to lack and enforce these procedures so it was nice to see the DMV taking it seriously. All staff was very friendly while they weren't able to entirely help me with my issue at hand. I ordered a new DL in the mail it still hadn't in the allotted time (7-10 days). So that's why I had to go in . They only told me I could just renew it. I ordered a new DL for a change of address. I only give three starts because they didn't refund me for the one that never came. Biggest recommendation, while I believe I got lucky that day definitely make an appointment or you will just be standing off to the side for a long time.
The staff was slow and service was adequate for my needs. There was limited seating due to COVID restrictions in place. I did not make an appointment and went when I thought it would be less busy. This is a typical government-run office where workers do not seem to go out of their way to be accommodating to their clients. After an average wait, I was processed without any true interaction with the clerk. She appears to not like her job very much or was bored. The location is easy to find however parking was more challenging due to this being a multi-usage building. I did talk to another person there who had made an appointment and was still waiting 45 minutes after their appointment time. In all, I did not expect any better service than I received.
Questions and Answers
There are no questions yet, be the first!