Pomona CA DMV Field Office
California Department of Motor Vehicles
1600 S. Garey Avenue
Pomona, CA 91766
United States
Last updated on:
03/26/2023 - 12:21
Pomona DMV Location & Hours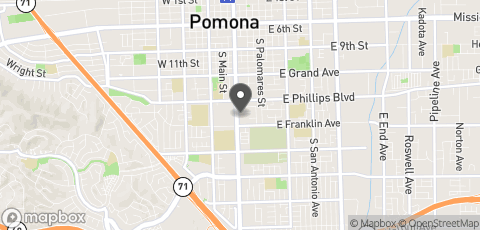 1600 S. Garey Avenue
Pomona, 91766
Pomona DMV Office Services
Licensing Services
Plates, Permits, & Placards
Records
Registration
Replace Lost/Stolen/Damaged
Request miscellaneous original documents
Self Service Terminals
Testing
Title Transfers
Pomona DMV Payment
Cash
Check
Credit Card
Digital Wallet
May accept ATM/Debit cards
Money order
Don't Forget to Leave a Review!
Let us know how this location handled your transaction. Did you have any issues?
Pomona California DMV Reviews and Tips
stay away from this office..... never been here when a dozen ppl aren't walking around instead of doing their job.... serve 2 ppl take a 20 min break I guess
The staff were extremely helpful. Even with the pandemic they were extremely courteous. Although they were slow as usual, but that was expected. I did not expect to get out of there so fast. I was expecting to be there at least for 2 hours, but it seems the pandemic streamlined a lot of the processes and not many people showed up.
My experience renewing my driver's license at the Pomona office was made so much better because of the assistance I received from one of your employees. Her name is Denise & she was coordinating the area where the computers are for taking the written tests. There were a lot of people who came & went & had a lot of questions. She was kind, patient & very professional with everyone. She assisted each person, answering their questions & directing then to available computers. I had a cane so Denise directed me to a computer that had a chair for my convenience. She was so kind & helpful to me, answering questions about how to use the computer & what to do when I got stuck or confused. She was such a great help without ever losing patience or being irritated no matter how many people sought her attention. She was able to multitask beautifully & everyone was treated with kindness & understanding. She deserves a commendation for excellence in the performance of her job while under pressure of people coming & going continually. I give her an A+++.
Questions and Answers
Quiero renovar mi licencia por la de teal id que necesito hacer