51515 Huntington Rd #2 La Pine, Oregon 97739
La Pine, OR 97739
United States
Location & Hours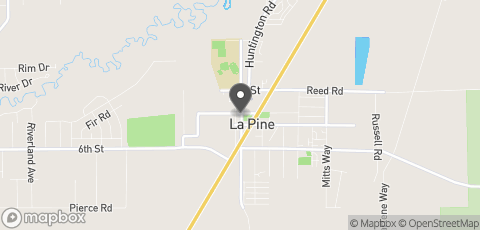 51515 Huntington Rd #2 La Pine, Oregon 97739
La Pine, 97739
Office Services
Accident Reports
Change of Address & Voter Registration
Driver Licenses: Original, Duplicate & Renewal
Identification Cards: Original, Duplicate & Renewal
Knowledge Testing -
Record Purchases Information
Registration Renewal
Trip Permits
Vehicle Identification Number (VIN) Inspections
Vehicle Title & Registration Transactions
Notes
Your customer number must be called by 11:15 AM to take a test prior to lunch or by 2:30 PM to take a test before the office closes.
No one is allowed to accompany a customer into the testing area while a knowledge test is being taken except for interpreters.
DMV Practice Tests
Get ready for your written test with one of these Great Practice Tests:
Reviews and Tips
There are no visitor tips yet, be the first!
Questions and Answers
There are no questions yet, be the first!