3014 Island Ave La Grande, OR 97850
La Grande, OR 97850
United States
Location & Hours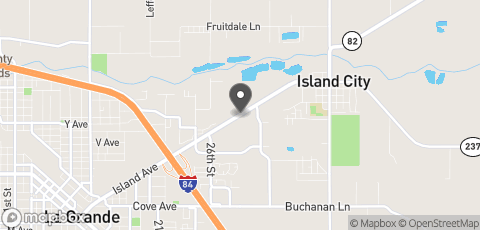 3014 Island Ave La Grande, OR 97850
La Grande, 97850
Office Services
Accident Reports
Change of Address & Voter Registration
Drive Tests:
Driver Licenses: Original, Duplicate & Renewal
Identification Cards: Original, Duplicate & Renewal
Knowledge Testing
Motor Carrier Transportation Division Permits
Record Purchases Information
Registration Renewal
Reinstatements & Rescinds
Trip Permits
Vehicle Identification Number (VIN) Inspections
Vehicle Title & Registration Transactions
Notes
Your customer number must be called by 4:00 PM in order to take a test that day.
No one is allowed to accompany a customer into the testing area while a knowledge test is being taken except for interpreters. Drive Tests Drive tests are given by appointment only. If you would like to schedule an appointment, please call (541) 963-3012.
For Class A Skills tests, this office cannot accommodate trailers 45 feet or longer.
If there is inclement weather, drive tests may be cancelled or traction devices may be required. Please check the Special Notices or confirm your drive test by calling the office.
DMV Practice Tests
Get ready for your written test with one of these Great Practice Tests:
Reviews and Tips
The building isn't at all what you'd expect. It's almost like it's in a strip mall. Which means lots of parking! There is plenty of seating and the wait time was next to nothing. The computer stations were old but clean. The staff was very friendly and helpful but seemed to be fairly new to working for the DMV. I recommend asking as many questions as possible and doing your own homework/research before you go in. If I had known more about the topic I was going in for I could have avoided a timely mistake and saved myself a lot of paperwork. As with any DMV, go early and expect it to take longer than you want it to. DMV stuff just takes a long time no matter the circumstances.
Questions and Answers
There are no questions yet, be the first!