5801 E. Taft Road,North Syracuse, NY 13212
Syracuse, NY 13212
United States
Office Services
NY DMV offices handle all transactions
Notes
Dealer Plates and Transporter: Normal Office Hours
Oral Test: Same time as corresponding test
CDL Oral Test- By Appointment Only
Additional Office Services & Hours
Hours of Operation
Monday - Friday:
8:30-17:30
Type
CDL General Knowledge Written Test
Hours of Operation
Monday - Friday:
8:30-15:00
Type
CDL Endorsements Only Written Knowledge Tests and Escort Vehicle Test
Hours of Operation
Monday - Friday:
8:30-17:30
Location & Hours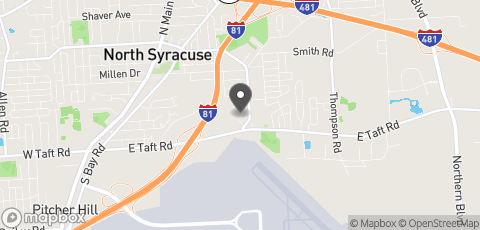 5801 E. Taft Road,North Syracuse, NY 13212
Syracuse, 13212
Questions and Answers
There are no questions yet, be the first!
Reviews and Tips
it was kind of hard to find because its in the back of a parking lot. The staff was super nice, but if i didn't have an appointment i'd have been there all day.
The staff was pleasant though they weren't thrilled to be there and you could tell. Parking and finding the building was rather easy which was appreciated. My main issue had to do with wait times and COVID. Even though I had an appointment I still had to wait about 40 minutes once I got there and social distancing wasn't being followed super strictly which I wasn't a fan of. If I had to offer anyone advice about going to the DMV it would be to try and schedule an appointment for a time of day that few people would be able to make it. I went around noon so I'm thinking I got stuck with a lot of people going on their lunch break. Going early in the morning might be the way to go.