Location & Hours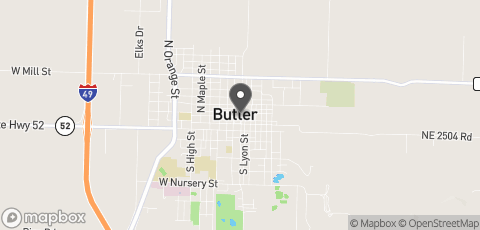 4 W. Ohio St.
Butler, 64730
Office Services
Drivers License
Learner's Permit
Provisional License
Address Change
Name Change
Driving Records
Registration
Registration Renewal
Title Replacement
Title Transfer
Other Registrations
Notes

This Location Is open on the first and second Wednesday of the month.

Appointments Required for CDL Testing.
DMV Practice Tests
Get ready for your written test with one of these Great Practice Tests:
Reviews and Tips
The staff were friendly and encouraging and seem determined to help me out. I think that they did not find me a problem at all although they did not ask me a lot of questions about my response about how I felt about them but generally I was happy with them. I would have expected them to interact with me more but its understandable because they are at work and I also have my own things to do and less time to send there. They asked me just a few questions which I think was OK
The staff wanted to hep me out more faster so that I would leave for the other persons after me to be attended to
I waited for a reasonable amount of time. I found two people on queue ahead of me and I thought they were served quite fast, it would have probably taken more for them because of the challenge they needed to be resolved.
While I waited I had a chance to read some articles about my challenges and how to resolve them.
The location is well located and easy to find, I did not have a problem to find it because I have been there another time in the past but even still its easily accessible using google earth that I used previously, oh and the parking is spacious and safe according to my own thinking it may be different for someone else.
COVID19 procedures and policies are being adhered to, they ensure social distancing which I really liked with arrangement of at least 1.5 meters apart and they allow you to use your own sanitizer which I think is great because other places may have sanitizers that may react to my skin.
They were OK with one wearing a phase mask. They also had information on COVID19. Some of the information on the ads included some images which I think is helpful for people with challenges to read from far.
I would encourage any one that is planning to visit to make arrangements for an appointment before hand, with an appointment it works more faster than when one just does a walk in. I will recommend this office because I think they served me better but also its because I come from close
Questions and Answers
There are no questions yet, be the first!