Lauderdale Lakes FLHSMV Driver License Office
FLHSMV
3718-3 West Oakland Park Blvd.
Lauderdale Lakes, FL 33311
United States
Last updated on:
02/08/2023 - 20:40
Lauderdale Lakes DMV Location & Hours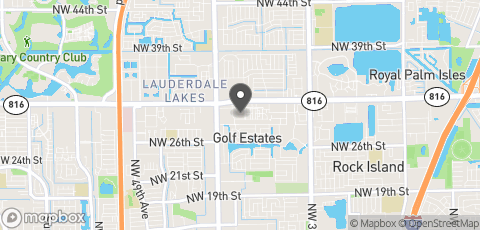 3718-3 West Oakland Park Blvd.
Lauderdale Lakes, 33311
Lauderdale Lakes DMV Office Services
Driver License
Driver License services
ID card
Reinstatements
Written and skills exams
Lauderdale Lakes DMV Payment
Cash
Check
Credit Card
Debit
Lauderdale Lakes DMV Office Notes
Walk-ins are accepted on a limited basis.
Don't Forget to Leave a Review!
Let us know how this location handled your transaction. Did you have any issues?
Lauderdale Lakes Florida DMV Reviews and Tips
Location is in the shopping plaza on the SE corner of Oakland Park Blvd. and State Road 7. Not a lot of seating. Try to get an appointment early in the morning as it's not as busy. Masks are required, and I strongly urge you to wear rubber gloves as well because all surfaces are frequently touched. Overall, not the worst location to go to. Workers aren't very helpful, like they don't want to be there, but they work pretty quickly.
Lissel B on station 9 was so pleasant and patient. Refreshing to see at a DMV office. Made my experience very manageable and easy. Thank you!
Worst DMV I've ever been to. It's very unorganized. They're rude and careless. I won't come to this place again. They yell at people like they're above us. I suggest you go to another DMV.
Rude driving testers, impatient and cold-hearted. Not very welcoming, but the staff in the building was.
The manager Tequila Wallace runs the place un away that you obey AND abide by her rules or scort you out.
Ir seems that the eye testing machines mal function, as people who seee well áre Sent for am eye test that cost about100 Is. Yo talk to her you need to produce you drivers licence first. What a coincidence,in the régimen of Cuba they take your passport also.
A young lady who lives with me and speaks English well as a second language was insulted and mistreated by the lady working the front door of the Lauderdale Lakes office. The woman was African American, slender with shoulder length hair, and wearing jeans and a black and blue shirt yesterday, November 6, 2023. Her job was to examine documents and give out tickets. When my friend asked her to please repeat her instructions given in English, the DMV worker got angry and started insulting my friend. She asked my friend why she was here if she didn't understand English. She told her that her kind of person needs to go back to Columbia and not be here ruining our country. She called my friend a prostitute and said that she was here to get a husband and that she should go home. My friend asked her why she was treating her that way when all she needed was the correct information to go to the right place inside. She kept insulting, my friend, looking at her documents to find fault with them, and doing everything she could to disrupt this young lady from entering for her appointment. My friend left and came back with another document to make sure she had everything she needed. She got back at the end of the line. When she came to the DMV worker, she was rude and insulting and went through her documents again, looking for another reason to turn her away. She told her a few times to get lost and come back and make another appointment. My friend was polite and stood up for herself, and said I have done nothing to you. I don't know why you're treating me this way. They have all my information inside. All I need to do is retake the written test. At one point the DMV worker went inside and slam med the door and did not come out for 40 minutes, keeping everyone outside in a holding pattern. Some other people in line asked what the problem was, and tried to intercede for my friend. Some people suggested that the police be called because the DMV worker had been so insulting and racist and rude. After some of the people said they were going to call the police, my friend was finally let inside and was allowed to take, her written exam. When she told us and other friends of hers, this story, another one of her Colombian friends mentioned that she had been treated exactly the same way by the same lady at the front door. There is no way this woman should be allowed to treat people like that. I am hoping that people in charge of this office will speak to her and change her attitude toward people who are only trying to get, a vital document that they so sorely need.
Questions and Answers
Can I walk in at anytime to renew my license?