San Diego Clairemont DMV Field Office
4375 Derrick Drive
San Diego, CA 92117
United States
San Diego DMV Location & Hours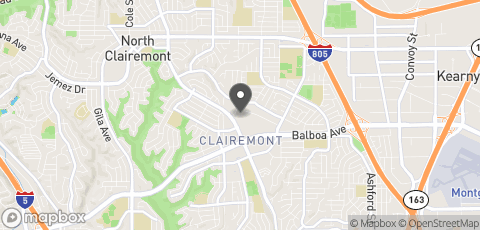 4375 Derrick Drive
San Diego, 92117
California DMV Office Services
Driver License and ID Card Processing
Self Service Terminals (SST)
Vehicle Registration
California DMV Payment
Cash
Check
May accept ATM/Debit cards
Money order
Notes
This office has a self-serve kiosk to avoid waiting in line.
DMV Practice Tests
Get ready for your written test with one of these Great Practice Tests:
California DMV Reviews and Tips
DMV office claimed the wait time was 68 minutes when I was in the building. Actual wait time was over 2 hours. This was mostly due to the fact that there was only one DMV agent assisting customers at the front desk. When the "Appointments" line started to get customers in it the DMV agent would immediately start helping the "appointments" customers, leaving the "non-appointment" line to wait sometimes unhelped for 20 minutes at a time.
I thought the staff was quite professional and helpful. They did their job thoroughly and tried their best to move people along to reduce wait time. The wait was as expected, given it's a DMV and Covid-19. The location was not hard to find because I have driven by that location very frequently, so I was already familiary with this particular DMV. Parking was not bad at all; I was able to find a space in the lot, but even if I couldn't, I know that the street usually has a few spaces if you're willing to drive a bit further and walk a bit. Covid procedures seemed to be observed; people were socially distanced as best as they could, and everyone I saw was wearing a mask. I would highly recommend that people make an appointment because you never know how busy the DMV will be, and you would not want to risk getting stuck waiting in the line for hours. Covid-19 also makes things take a bit longer than usual, so definitely make an appointment if you can.
The location is super easy to find. The staff was helpful but because of Covid all the procedures were modified and it was not clear what people should do when arriving. I got a number and I had to wait outside in a line. I could not hear when they were calling my number.
it wasn't their fault as they were opening up for the public after a long break due to covid. they didn't have enough time to organize themselves. a few weeks late, we went to the same location for my wife and they did it all at amazing speed. their service is excellent and next to none.
Questions and Answers
There are no questions yet, be the first!