California Department of Motor Vehicles
7200 Galilee Road
Roseville, CA 95678
United States
Roseville DMV Location & Hours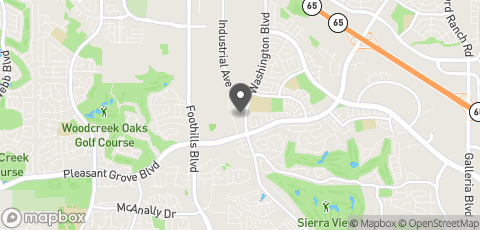 7200 Galilee Road
Roseville, 95678
Roseville DMV Office Services
Licensing Services
Plates, Permits, & Placards
Records
Registration
Replace Lost/Stolen/Damaged
Request miscellaneous original documents
Self Service Terminals
Testing
Title Transfers
Roseville DMV Payment
Cash
Check
Credit Card
Digital Wallet
May accept ATM/Debit cards
Money order
Roseville DMV Office Notes
Saturday office hours are closed.
Don't Forget to Leave a Review!
Let us know how this location handled your transaction. Did you have any issues?
Roseville California DMV Reviews and Tips
I needed my license renewed which included a picture and finger prints. I was impressed with the check in process. I checked in outside at a table and was given a code and they took my cell phone number. I was able to check on my phone how much longer I'd be waiting and also the DMV texted me when it was time to come in. The photo and fingerprinting went very smoothly and the employees were friendly.
I scheduled a visit to get my real ID. Because of the California stay at home order, there had been some periods of time where the DMV was shut down or had modified hours. When I arrived, there were signs indicating where to park. Upon parking, there were signs showing where to line up and ropes in place to guide the line. There was also a hand sanitizer station out front. There were also signs reminding people to social distance in line and that masks were required. Overall, coming into the building was very organized with covid protocols in place. Once inside, there was a table set up where an attendant checked what I was there for and she also checked all my forms to make sure I had the necessary items for a real ID. I had prepared by using the online checklist before I came, so I knew I had all my documentation in order. But, I had one problem. I'd brought my ceremonial copy of my marriage license. I guess I never ordered and original copy when I got married. Because a certified copy of marriage license is required to prove name change and I did not have one, I was unable to get my real id. Since my license was expired, I still needed to renew even if it couldn't be a real ID. I went inside, quickly was received at the counter, and then my renewal was processed. My picture was taken and my license was printed. I was finished with the whole process within about 20 minutes, and because of the covid protocols limiting the number of customers inside, there was no wait once I was in the door.
The staff was decent at best. It was clear to me that they did not want to be there as much as the customers did not want to be there, but they should have done a better job of masking their true emotions. Their attitudes were off-putting, but they were somewhat helpful. The wait was not terrible for the DMV because I waited about an hour and was there at a max of two hours, but that is still a very long time to wait if you have other plans for the day. They had standard COVID procedures, such as you have to wear a mask as well as seats or places in line-six feet apart, and they had hand sanitizer present in the building as well. I would tell others to be wary that they may have to wait and probably should not go there if they are in a bad mood because it will only worsen especially with the mediocre customer service skills of the representatives. Overall, the experience could have been worse but was in no way pleasant.
At end of test screen says see DMV staff. Needs to additional say which window to go to.
Questions and Answers
im trying to make an appointment for real ID.
Hello. To make an appointment to obtain a California REAL ID, you can visit the California Department of Motor Vehicles website and begin by filling out an online REAL ID application. Once your application has been submitted along with the required documents, you will be prompted to make an appointment at any California DMV location.
How do I go about taking my name off a vehicle registration … jointly registered with my husband yet I want my name removed…I am without transportation husband has the vehicle.. difficult for me to get into DMV… at this time… HELP!!!
How to transfer pink slip from deceased spouse to wife