This office is closed. There may be more information regarding this closure below.
This location was Relocated in June 2023 to Nelda Wells Spears Building, 2433 Ridgepoint Drive.
5501 Airport Blvd Austin, TX 78751
Austin, TX 78751
United States
Austin DPS Location & Hours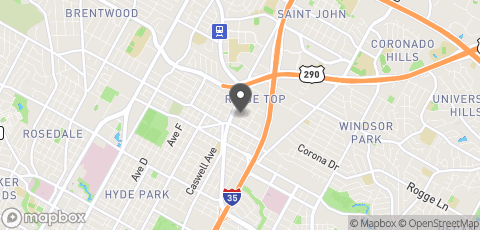 5501 Airport Blvd Austin, TX 78751
Austin, 78751
Texas DPS Office Services
Disabled Parking Placards
change of address on motor vehicle records
copies of registration receipts
non-fee license plates such as Purple Heart and Disabled Veterans license plates
registration renewals (license plates and registration stickers)
temporary registration
vehicle title transfers
DMV Practice Tests
Get ready for your written test with one of these Great Practice Tests:
Texas DPS Reviews and Tips
The parking lot wasn't great and needs to be repaved, but the rest of the experience was great. I received an email to check in from my car and then was told when to come in so I could interact with as few people as possible. I was given a temperature check and then pointed to the correct window. The woman did her job and I was in and out.
Parking was easy to find, they did not check temperature when I visited but everyone was wearing a mask. The location was easy to find but in a run down area that made me uncomfortable, the place was cramped and people weren't being sat in proper social distancing guidelines of six feet. The wait was uncomfortable and long, but once I was called, the staff was friendly and helpful and I got my business done quickly and without issue or complaint. I would recommend going to another location however, if you're feeling concerned about covid guidelines.
Questions and Answers
There are no questions yet, be the first!