Bowie Tx DPS Office
Texas Department of Public Safety
603 Decatur Street
Bowie, TX 76230
United States
Last updated on:
11/29/2023 - 14:54
Bowie DPS Location & Hours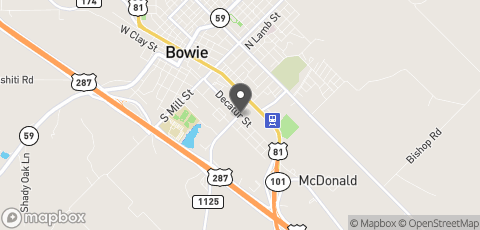 603 Decatur Street
Bowie, 76230
Bowie DPS Office Notes
Driver Licese Office, No Motor Vehicle services.
Don't Forget to Leave a Review!
Let us know how this location handled your transaction. Did you have any issues?
Bowie Texas DPS Reviews and Tips
It was a very normal experience because it was just the same kind of apply and get the picture taken and get the license nothing special it just felt like it took such a long time because I was sitting there and had to leave for a reason from school came back and lost my spot so it was another two hours for me to get back in line and take the photo for my license. Very long but expected plus the staff did take lunch breaks which made the long line last even longer which was worse so.
Had a horrible experience. I had an appointment for the morning and did not have everything I needed. I expected that I would have to reschedule but luckily they said I could come at 1:00. I walked in with my son at 3 minutes till and she said it wasn't one yet but we could "sit over there" I said we don't mind going back to car and she said just to sit. When I gave her the paper she said it was incomplete and highlighted the parts I missed and threw it back to me. She needed my son to fill out a paper at the same time and he didn't have a pen. I gave him mine and started looking for my pen in my purse. She asked my son if his paper was done and he hadn't even started filling it out. She got mad and said "I'll just do it!" As I looked for my pen I couldn't find it. Exasperated by how under prepared I was I said this is crazy. She said "what's crazy because I'm fitting you in when I have other people!" When I checked over my paper before I handed it back she slammed her hand on the counter to let me know she didn't appreciate waiting. I apologized. She rolled her eyes and said it was fine. Gave us his permit and said "you might want to keep up with this because we don't take walk-ins on drivers tests." I'm crying at this point because she was so consistently rude. As we left she said have a good afternoon and then continued mumbling about us as we left. I WOULD HAVE PREFERRED TO RESCHEDULE AS OPPOSED TO WALK-IN LATER AND BE " WORKED IN WHEN SHES BUSY" IF IT WOULD MEAN BEING TREATED PROPERLY. Next time simply say "you don't have the appropriate documents and unfortunately have to reschedule."
I drove 2hrs from Dallas, TX and had a horrible experience! I had an appointment a few weeks prior to my visit but, didn't have everything I needed to complete the transaction of switching my out of State license so I was told to come back Mon-Fri normal business hours and I could walk in. Yesterday, I made it there at 10am and was told that I could come back M-F since I don't have an appointment even after explaining what happened. The employee treated me like crap, she told me that I could wait until 3:45pm in my car. I sat in my car 5 hours and it only took them 10 mins to take care of me. There were a few times while sitting in my car that I was the only person there! I saw others that didnt have appointments either but, they were taken care of. The staff members here are extremely racist and very rude. This was the worst experience of my life! They made sure I knew that I wasn't welcomed there. I wouldn't recommend this location to any person that looks like me. Stay far away!
Service at this location for a driver's permit was quick, efficient and polite. We came prepared, and the whole process took about 10 minutes.
Questions and Answers
How much is a Texas id and do you have a walk in
Hello,

For Texas residents who are 59 and younger, your ID card will cost $16. If you are 60 years old and older, the fee for a Texas ID is only $6.

While it is technically possible that the DPS office of your choice will have the availability to fit you in as a walk-in, it is always strongly recommended that you make an appointment. Scheduling an appointment helps you avoid long wait times.

To save even more time at your appointment, you can fill out this application before heading to your appointment: https://www.dps.texas.gov/internetforms/Forms/DL-14A.pdf . You will also need to bring one proof of US citizenship, proof of TX residency, proof of identity, and social security number.

Hope this helps!