2431 Spring Forest Road, Unit 101, Raleigh, NC, 27615
Raleigh, NC 27615
United States
Raleigh DMV Location & Hours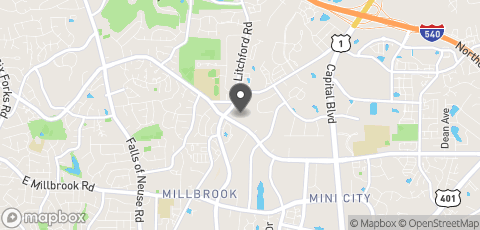 2431 Spring Forest Road, Unit 101, Raleigh, NC, 27615
Raleigh, 27615
Raleigh DMV Office Services
Don't Forget to Leave a Review!
Let us know how this location handled your transaction. Did you have any issues?
Raleigh North Carolina DMV Reviews and Tips
So, during the co-vid pandemic I renewed my licenses online. When I Finally received it in the mail above my licenses it said, "Not for Federal Identification." Now I'm sitting down scratching my head wondering why it says this. So, I went over to the dmv and they told me that since we are in a pandemic you need to make an appointment, So I go back home make the appointment, wait a few days, then head back over there on the day of the appointment.

So, on that day, when I got to the head of the line, and I asked, "Why does say Not for Federal Identification." The officer told me it was because I didn't show the right documents. So, then the officer asked me if I have my passport with me and I showed it to them. Then the officer said, "Ok just take a seat and wait for your number to show up and they will take care of that for you. I waited to my number was up went through the whole process and went back home. Several days later my new licenses show up, I opened the mail and wouldn't you know it. It was the same licenses with the same problem. I'm looking at my mom and laughing because I could have sworn that I spoke loudly and clearly enough for them to understand me. How are people getting hired since the pandemic? ...I wonder.
In addition to my earlier review, I would like to recognize Mr Royster, Ms Tisdale, and Ms Wells for their professionalism, knowledge, patience, and courtesy. Ms Tisdale made sure to update those waiting outside on the status of the situation inside, what is needed for various circumstances, and the cutoff time for those taking the driver's test. Thank you! 🙂
Please provide ADA accommodations for handicapped/Veterans/Seniors/100% Disabled--even chairs would help!
Thank you,

Grant
Questions and Answers
There are no questions yet, be the first!