Tax Collector Bldg-Gulf Harbors - 4720 US Highway 19, New Port Richey, 34652, FL
New Port Richey, FL 34652
United States
New Port Richey DMV Location & Hours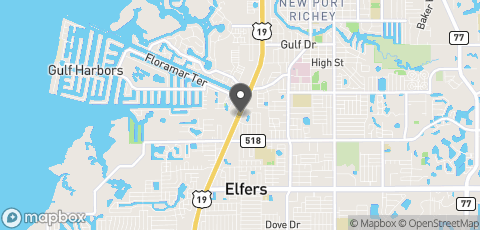 Tax Collector Bldg-Gulf Harbors - 4720 US Highway 19, New Port Richey, 34652, FL
New Port Richey, 34652
Florida DMV Office Services
Motor Vehicle services
Vehicles
Trailers
Vessels
Mobile homes
Specialty tags
Disability parking permits
Driver License services
Driver License
ID card
Reinstatements
Written and skills exams
Notes
Mon ,Wed, Fri 8:30am-5pm Tues Thurs 7:30am-6pm Sat 9am-1pm
Limited Driver License Services

Additional Office Services & Hours
Hours of Operation
Wednesday:
8:30 am-5:00 pm
Thursday:
7:30 am-6:00 pm
Saturday:
9:00 am-1:00 pm
Hours of Operation
Wednesday:
8:30 am-5:00 pm
Thursday:
7:30 am-6:00 pm
Saturday:
9:00 am-1:00 pm
DMV Practice Tests
Get ready for your written test with one of these Great Practice Tests:
Florida DMV Reviews and Tips
I went to renew my motor vehicle registration at this location and even with COVID-19 precautions in place it was quick and easy from the time that I got there until the time that I left. What is nice is that this DMV uses a system based on what you are there for so if you are just getting something simple taken care of then you are put into a specific queue and don't have to wait around while other customers are having more detailed issues addressed. The wait time was minimal and people were spaced apart for safety reasons. The staff was professional and courteous. I could not ask for a better experience at a DMV.
We wore masks, had a long line since it was the end of the year probably. Had to renew license in person because it was expired. US19 is always busy, might be better to visit the one on Little Rd. & Decubellis.
Questions and Answers
I need to make an appointment . How do I do that ? my email is cgriff***@gmail.com please respond to my email by sending email instructions to my email.
At this time the Pasco county tax collectors offices do not take appointments, non-county residents must arrive before 4:00pm to be served.

Saturday is open only for Pasco County resident.