Clearwater DMV Office:
29399 Hwy 19 North, Ste 100, Clearwater, 33761, FL
29399 Hwy 19 North, Ste 100, Clearwater, 33761, FL
Clearwater, FL 33761
United States
Last updated on:
01/26/2016 - 04:22
Clearwater DMV Location & Hours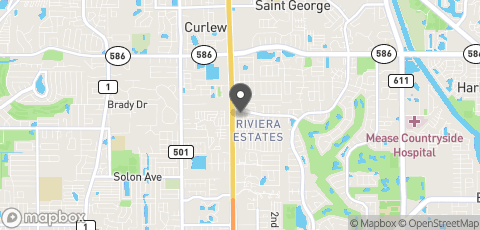 29399 Hwy 19 North, Ste 100, Clearwater, 33761, FL
Clearwater, 33761
Clearwater DMV Office Services
Motor Vehicle services
Vehicles
Trailers
Vessels
Mobile homes
Specialty tags
Disability parking permits
Driver License services
Driver License
ID card
Reinstatements
Written and skills exams
Clearwater DMV Office Notes
Mon-Fri 8am-5pm
Make Appointment Online Customers needing a knowledge exam or road test must be in the office by 3:30 pm. Road tests are by appointment only . Please note that appointment availability varies greatly by location, especially for road tests. Please check multiple offices for additional dates and times.

Additional Office Services & Hours
Hours of Operation
Monday - Friday:
8:00 am-5:00 pm
Hours of Operation
Monday - Friday:
8:00 am-5:00 pm
Don't Forget to Leave a Review!
Let us know how this location handled your transaction. Did you have any issues?
Clearwater Florida DMV Reviews and Tips
I was intimidated when I first walked into this location. There were approximately 30 windows for customers to be taken care of which seemed overwhelming and my first thought was, "I am going to be here forever!" Surprise, I sat for about 5 minutes and was called to a window. I spent about 15 minutes filling out papers, answering questions, taking picture, and received my new driver's license before leaving. It was a quick visit and the staff were all nice, helpful, and pleasant to do business with considering we are in the middle of a pandemic.
The Hwy 19, Clearwater, Fl. - DMV Website for Appointments is the Worse I have ever seen
I've found that the employees at the Clearwater DMV in Pinellas are very often not able to answer questions and unwilling to ask supervisors or coworkers for the answers. This has been my experience whether I called on the phone or went to the office personally. Also, because a Pinellas DMV employees forgot to completely fill out a document, I had to go to a great deal of trouble to get proof of that information; when I showed the form with the blank spot, the Pinellas DMV employees told me I was on my own, as they could not help me. On the other hand, I have found that if I call the Pasco DMV, my questions are kindly answered. Maybe a little more time for training employees would help. Meanwhile, if you can'at get help at the Pinellas DMV, call Pasco's.
Questions and Answers
Yesterday I got a new renewal tag for my mobile home and discovered already had one. How can the agent allow me to buy to the exact same vehicle for the same year.?
Hello, I'm sorry that this happened! Please contact the Florida Highway Safety and Motor Vehicles location where this took place for further assistance at https://www.flhsmv.gov/locations/pinellas/.