29399 Hwy 19 North, Ste 100, Clearwater, 33761, FL
Clearwater, FL 33761
United States
Office Services
Motor Vehicle services
Vehicles
Trailers
Vessels
Mobile homes
Specialty tags
Disability parking permits
Driver License services
Driver License
ID card
Reinstatements
Written and skills exams
Notes
Mon-Fri 8am-5pm
Make Appointment Online Customers needing a knowledge exam or road test must be in the office by 3:30 pm. Road tests are by appointment only . Please note that appointment availability varies greatly by location, especially for road tests. Please check multiple offices for additional dates and times.

Additional Office Services & Hours
Hours of Operation
Monday - Friday:
8:00-17:00
Hours of Operation
Monday - Friday:
8:00-17:00
DMV Practice Tests
Get ready for your written test with one of these Great Practice Tests:
Location & Hours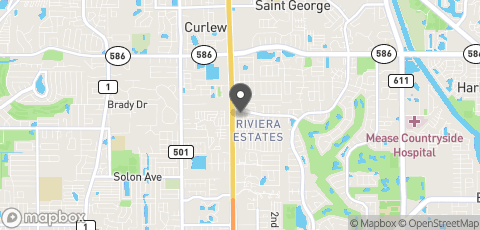 29399 Hwy 19 North, Ste 100, Clearwater, 33761, FL
Clearwater, 33761
Reviews and Tips
I was intimidated when I first walked into this location. There were approximately 30 windows for customers to be taken care of which seemed overwhelming and my first thought was, "I am going to be here forever!" Surprise, I sat for about 5 minutes and was called to a window. I spent about 15 minutes filling out papers, answering questions, taking picture, and received my new driver's license before leaving. It was a quick visit and the staff were all nice, helpful, and pleasant to do business with considering we are in the middle of a pandemic.
Questions and Answers
Yesterday I got a new renewal tag for my mobile home and discovered already had one. How can the agent allow me to buy to the exact same vehicle for the same year.?