120 West Main Street, Mayo, 32066, FL
Mayo, FL 32066
United States
Office Services
Motor Vehicle services
Vehicles
Trailers
Vessels
Mobile homes
Specialty tags
Disability parking permits
Driver License services
Driver License
ID card
Reinstatements
Written and skills exams
Notes
Mon-Fri
DL: 8am-4:30pm
MV: 8am-5pm
Limited Driver License Services

Additional Office Services & Hours
Hours of Operation
Monday - Friday:
8:00-16:30
Hours of Operation
Monday - Friday:
8:00-17:00
DMV Practice Tests
Get ready for your written test with one of these Great Practice Tests:
Location & Hours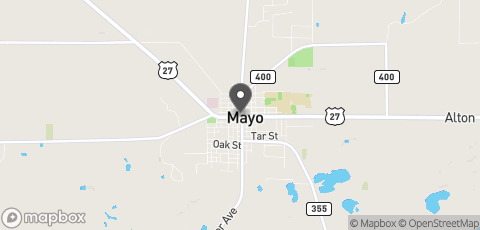 120 West Main Street, Mayo, 32066, FL
Mayo, 32066
Reviews and Tips
The DMV is located at the Courthouse in Mayo, Florida. I had to go there to get my driver's license renewed. There was a bit of a wait time, but nothing compared to larger towns and cities. The friendliness, patience and helpfulness of the staff makes it well worth going there. My visit was during the first COVID pandemic wave (July 2020) and they had taken pretty strict measures to protect others from virus, such as keeping 6 foot distance from one another. They also would only allow one person in the main DMV office at a time to prevent the spread. The seating area outside the door was large enough for people to keep their distance from others. I don't recall anyone wearing a mask, but this was during the mask shortage. I think they did great with the materials they were given at the time. Parking is very easy and is located all around the Courthouse downtown. It is very straightforward and to find the DMV, all you have to do is go inside the Courthouse and someone will typically point you in the right direction if you are having trouble locating the right office within the facility. I have had some bad experiences with extremely irritable DMV employees at the Lake City, Florida and Gainesville, Florida DMVs, so the Mayo location is a breath of fresh air. You'll only be met with kindness and a smiling faces there.
Questions and Answers
There are no questions yet, be the first!