This office is closed. There may be more information regarding this closure below.
All DMV field offices will be closed on Friday, March 31 in observance of Cesar Chavez Day.
California Department of Motor Vehicles
2260 D E. Palmdale, Palmdale, CA 93550
Palmdale, CA 93550
United States
Palmdale DMV Location & Hours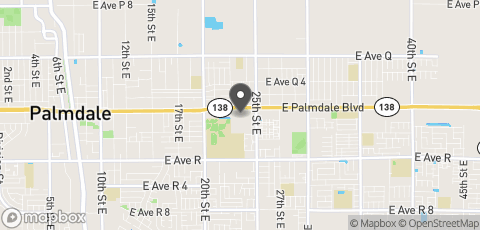 2260 D E. Palmdale, Palmdale, CA 93550
Palmdale, 93550
California DMV Payment
Cash
Check
Credit Card
Digital Wallet
May accept ATM/Debit cards
Money order
Notes
Office is Closed until further notice.
DMV Practice Tests
Let us know how this location handled your transaction. Did you have any issues?
California DMV Reviews and Tips
There are no visitor tips yet, be the first!
Questions and Answers
I have a NON OPERATED car that has not been used norregistered for over 10 years. I would like to re-register in order to drive from California to NY state where I will be using the car. What do I need and what can I expect in order to re-register my car?
In order to re-register your car in California, you will need to have the vehicle inspected by a certified smog station. You will also need to provide proof of ownership and insurance. You will most likely need to pay the appropriate back-registration fees and taxes. Once you have registered the car in California, you will be able to transfer the registration to New York. In order to do so, you will need to contact the New York Department of Motor Vehicles for instructions on the process.