Bakersfield CA DMV Field Office
The Bakersfield DMV office is open and ready to assist customers with tasks that cannot be completed online; however, due to the Covid-19 Pandemic, Saturday office hours are currently unavailable.
California Department of Motor Vehicles
3120 F Street
Bakersfield, CA 93301
United States
Last updated on:
01/27/2023 - 17:13
Bakersfield DMV Location & Hours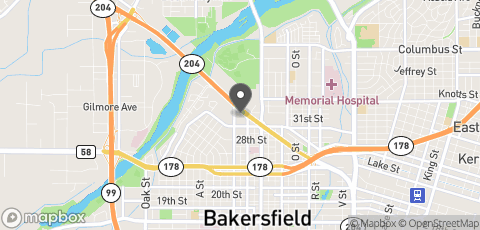 3120 F Street
Bakersfield, 93301
Bakersfield DMV Office Services
Licensing Services
Plates, Permits, & Placards
Records
Self Service Terminals (SST)
Registration
Replace Lost/Stolen/Damaged
Request miscellaneous original documents
Driver License Testing
All Title Services
Bakersfield DMV Payment
Cash
Check
Credit Card
Digital Wallet
May accept ATM/Debit cards
Money order
Bakersfield DMV Office Notes
Saturday office hours are by appointment only and exclusively for driver license transactions.
Don't Forget to Leave a Review!
Let us know how this location handled your transaction. Did you have any issues?
Bakersfield California DMV Reviews and Tips
It was great to be able to book an appointment online to take care of my issue. The location is easy enough to find and there is ample parking. The building and waiting area are fairly outdated but that didn't stop me from taking care of what I needed. I would recommend getting there a little early if you can.
II went to an office this week for an appointment and asked why I can't get through on the phone and they told me "because our employees are working from home". Ummm, they clearly aren't working if they refuse to answer the phone, but our tax dollars continue to pay them. I also asked when we will be returning to a normal non reservation system as some of us can't wait 3-6 months for an appointment and was told. " we aren't going to because it runs smoother for US this way". Well, news flash, it doesn't really matter if your job is easier it's about the service that our tax dollars pay for. We don't pay for a leisurely job for you, we're paying for a timely service and this is completely unacceptable. When I went to the DMV there were maybe three people in there yet the appointments were full. Completely booked. How? Walk ins should be acceptable, when you have multiple employees playing on their phone and doing nothing while people wait months and months and have to travel well outside their area to get into a DMV for an appointment. They offer permits online for cities but nowhere else, seems fair. When challenged about some of these issues I was met with a completely unacceptable answer by CA DMV. Basically, take that up with your local DMV office run by the county clerk.... I pay CA taxes for DMV services just like anyone else and will be directed to the State offices by them for answers. They are pathetic. If you can't and won't provide in person non reservation services in a timely manner then hand the task over to those who can. You've monopolized these services for long enough and are now withholding essential services from people for your own selfish desire of wanting to be lazy. Less lines less waiting. I don't like waiting around its such a waste of time for things that I could easily do online or maybe out source the work to other companies so I don't have to wait 4 hours in the dmv.


Questions and Answers
Is there a kiosks for title transfer at f. St.
Title transfers can be done online, by mail, or in person. You may not transfer a vehicle's title by using a California DMV Kiosk. DMV Kiosks allow you to renew your registration, file for planned nonoperation (PNO) status, pay a vehicle registration suspension reinstatement fee, submit an affidavit of non-use (ANU), remove an ANU,
submit proof of insurance when requested by the Vehicle Insurance Program, receive your driver's record, receive your vehicle record, receive a replacement registration card or sticker