1120 Roosevelt Avenue York, PA 17404
York, PA 17404
United States
York PENNDOT Location & Hours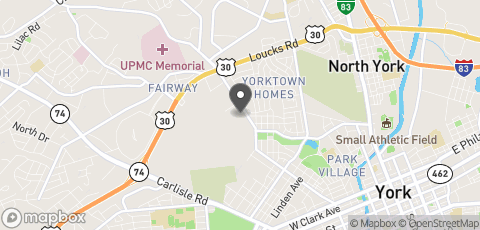 1120 Roosevelt Avenue York, PA 17404
York, 17404
Pennsylvania PENNDOT Office Services
General Services
Photo Lic
DMV Practice Tests
Let us know how this location handled your transaction. Did you have any issues?
Pennsylvania PENNDOT Reviews and Tips
This DMV is very easy to get to, because it is right off of a main highway. There is plenty of parking because it shares a parking lot with a few other businesses
This visit was during the pandemic, and I was pleasantly surprised that they were taking it very seriously. I was going to get my picture taken for my new license, and even though I obviously didn't have to wear my mask during the picture itself, they had a mask requirement. They also had social distancing protocols in place, so a room that is typically filled with a bunch of chairs, only had about 10. I was lucky enough to go at a time where there wasn't a lot of people there, but I still had to wait about 10 minutes.
This facility does a good thing by employing people with disabilities - however, this can make the efficiency quite terrible. The lady that I ended up interacting with was nice and cordial, but she lacked some social skills and professional skills as well. I wear glasses, and she could not communicate to me the best angle for my picture where I wasn't getting a glare. She ended up making me TAKE OFF my glasses - which I'm not even sure she should have done - to take my picture. She also couldn't get the license printer to work, and needed to get help from another employee. I ended up having to wait probably 10 minutes longer than truly necessary if they would have employed someone without a disability to be in the customer-facing position. Luckily it wasn't busy when I was there, but I can only imagine how inefficient it would be if there was a lot of people in there.
Questions and Answers
There are no questions yet, be the first!