Falkenburg DMV Brandon Tax Office
Hillsborough County Tax Collector
3030 N. Falkenburg Rd.
Brandon, FL 33619
United States
Last updated on:
02/08/2023 - 16:19
Brandon DMV Location & Hours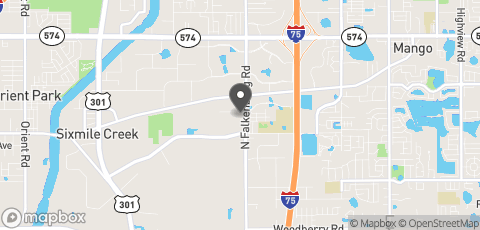 3030 N. Falkenburg Rd.
Brandon, 33619
Brandon DMV Office Services
Real ID / Travel ID
Driver License
Driver License services
ID card
Reinstatements
Written and skills exams
Brandon DMV Payment
Cash
Check
Credit Card
Debit
Brandon DMV Office Notes
All Services are by Appointment Only. 
Additional Office Services & Hours
Type
Motor Vehicle Service Hours
Hours of Operation
Monday - Tuesday:
8:00 am-5:00 pm
Wednesday:
9:00 am-5:00 pm
Thursday - Friday:
8:00 am-5:00 pm
Type
Driver's License Services
Hours of Operation
Monday - Tuesday:
8:00 am-3:30 pm
Wednesday:
9:00 am-3:30 pm
Thursday - Friday:
8:00 am-3:30 pm
Don't Forget to Leave a Review!
Let us know how this location handled your transaction. Did you have any issues?
Brandon Florida DMV Reviews and Tips
The location was easy to find and the staff was somewhat helpful, they just were not particularly friendly. Parking was adequate. Everyone was required to wear a mask. I would definitely recommend making an appointment as those who did not waited about 10 times as long it seemed like.
As far as the actual office is concerned have never had any difficulties it has been really great and the people are professional and courteous. However this website trying to set up an schedule an appointment is extremely difficult hard to navigate and too many ads to allow a smooth interaction extremely dissatisfied
Questions and Answers
If i lost my ID in a fire how should i go about replacing it?
Hello,

You can replace a lost or damaged Florida ID card online by going to the MyDMV Portal: https://mydmvportal.flhsmv.gov/Home/en/Account/Landing. The department will need to verify your social security number. If for whatever reason, the FLHSMV is unable to verify your social security number through the Social Security Administration, you will need to follow up with them accordingly.

If you would like to apply for a replacement ID in person, you can do so at any FLHSMV driver license service location in the state of Florida.
Good morning. I would like to ask you a question. I have my work permit receipt. My talk is for 2 months and it expired. I have the fingerprints and I have the theorist and the alcohol and drug test. I can get the license. I just need to do the practice, could you help me? Thank you
Moving to Florida with family in May 2023. I owned my 2007 Tundra, may wife has a 2021 Toyota Venza finance through Toyota, Virgina has title. We need Florida Licenses and Tags for vehicles. what documents do you need, and what do you think the estimate cost will be, and can we do both in one visit? Thank you.

V/R David Valle
My husband and I just relocated as well. So I understand that you are looking for assistance in the transfer process. To have a successful transfer you'll need the title of the vehicle, valid driver licenses for both parties. If both of you are listed on the title for both vehicles then you and your wife will have to be present day of appointment
( no exceptions ), proof of purchase, proof of residence (utility bill, lease or deed), both vehicles will need to present (so the sheriff can verify VIN number) and the money for the fees that'll charge. If I'm missing anything someone will comment but if you call the DMV directly they'll provide you with the information you need. I hope I was able to help.
Hello I was wondering how would I be able to get my electronic title from Florida dmv so I can register my car in Georgia where I'm currently living now
How would I go about making a dmv appointment
I sold my JetSki a year ago with trailer and I never got my trailer tag back. How do I go about doing this?
If you want to get your trailer tag back, you should reach out to the Florida Department of Highway Safety and Motor Vehicles (FLHSMV) because they are the ones in charge of distributing vessel registrations and titles. To learn more about vessel titling and registration, visit their website at https://www.flhsmv.gov/motor-vehicles-tags-titles/vessels/vessel-titling-registrations/. Additionally, it might be necessary to get in touch with the county tax collector or license plate agent office where you submitted your application.
I need to make appointment for oral exam (written exam with interpreter). Where should i go? Thank you.
What happens if we are late for our appointment
My friend gifted me her older car but I need to transfer my tags from my undriveable vehicle. Can I drive the car with out a tag until I transfer my tags?
Do I need a spot to surrender a tag?
Do I need an appointment to turn in a tag and remove my name from a title??