1325 Amburn Road Texas City, TX 77591-2469
Texas City, TX 77591
United States
Texas City DPS Location & Hours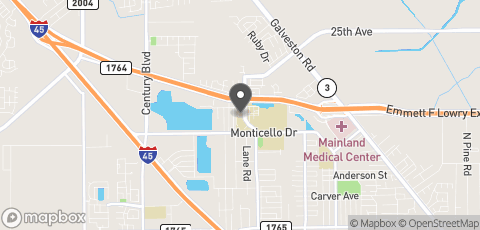 1325 Amburn Road Texas City, TX 77591-2469
Texas City, 77591
Notes
Note:
You may schedule a driving test appointment online for this office. You may also visit the office to schedule a driving test appointment or walk in and wait for a driving test if one becomes available. Prescheduled customers will have priority and there is no guarantee of a same day appointment.

No driving tests are conducted between 11:00 a.m. and 1:00 p.m.
 
DMV Practice Tests
Let us know how this location handled your transaction. Did you have any issues?
Texas DPS Reviews and Tips
IT was so difficult for me to locate this office and upon arrival I was met by a long queue outside the office. It was around 7.45 in the morning but my appointment was at 9.00. I thought arriving there early would give me better chances of completing the task of that day. The long queue was a big surprise to me considering the offices had just opened up after the covid 19 concerns. I had to park a few blocks away and walked all the way to the office. I just had a feeling there wont be parking space in and around the office. The guys at the queue seemed to have been there for a while and more others were joining in. I secured a place and because i had not had any breakfast I was feeling light headed so i sat down. I could hear some of the people mumble that they had been there as early as 6.00 am.
I waited in line until my time came. Tip no 1. Wear a mask and have your appointment confirmation on paper or screen. that's the first step for you to be allowed in by the security personnel. Employees there are on full gear you name it. Face shield etc. Next one of the staff will verify your name on the appointment list. Tip no. 2. Have your eight digit confirmation number from the email you receive from the DMV after completing the drivers license renewal application online.
Was directed to sit and wait and after a while was called to the counter. Everything else went seamlessly took approximately 45 minutes. This was because I had uploaded the documents in advance. Tip no. 3. Whether you upload the documents in advance or not please bring the hard copies with you on the day of your appointment. The staff were very helpful and did the process efficiently.
Staff is very helpful and humble. Full Process is completed in one hour. Location is easily find. Parking is very super. Covid procedure is followed. I tell my family friends about agency. I think about this type of agency very used for next generation. Staff very smart and very clear persons.
Their COVID procedures were very ineffective. There was no social distancing and wait times were ridiculous
Questions and Answers
I have an appointment to renew my driver's license and have filled out the application form. Noticed the notarization intent. Is a notary present at your location or should this be notarized in advance?