1600 W Loop 306 San Angelo, TX 76904
San Angelo, TX 76904
United States
San Angelo DPS Location & Hours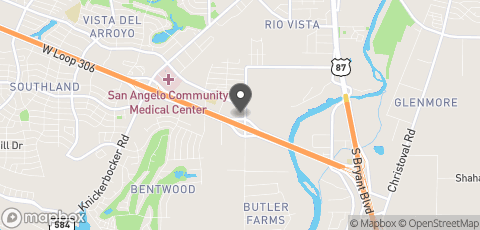 1600 W Loop 306 San Angelo, TX 76904
San Angelo, 76904
Notes
Note:
You may schedule a driving test appointment online for this office. You may also visit the office to schedule a driving test appointment or walk in and wait for a driving test if one becomes available. Prescheduled customers will have priority and there is no guarantee of a same day appointment.
 
DMV Practice Tests
Let us know how this location handled your transaction. Did you have any issues?
Texas DPS Reviews and Tips
So confusing and always tells you high call volume so you can't speak to an agent. This is unhelpful. All this to just set up a simple appointment.
It's off the 306 Loop. Take the Foster Rd. exit. Make sure to make a reservation!
I'm writing this on 20 January 2021. The soonest I can get an appointment is OVER A MONTH out on 24 February 2021. NEVER in my life have I had to wait so long. I've waited in a DMV in Phoenix for 8 hours and got what I needed, I've gotten stuff taken care of in a village in Nebraska, Also in Omaha, San Diego CA, etc. Never have I had to wait over a month.. Just a little ridiculous in my opinion. When I tried to call the DPS to see if they could do something sooner, and jumping through about ten steps on their automated phone call system, it told me due to high call volume my call cannot be taken and hung up. Ballinger DPS is over a month out as well. I don't understand the reason why it's so backed up.
Took our daughter to get her learner's permit this morning. I understand the appointments because of covid but was no comfortable with my daughter being the only one allowed to go inside for her appointment she's only 16 should have been allowed to have a parent with her!
This website is basically useless. They don't tell you how exactly to schedule an appointment. By the way an appointment should not be necessary to get or renew a driver license. I think the police chief or sheriff use to hand them out for .50 cents. You cannot understand the person who tells you to email the customer service. You should not have to email anyone to get a driver license.
Questions and Answers
There are no questions yet, be the first!