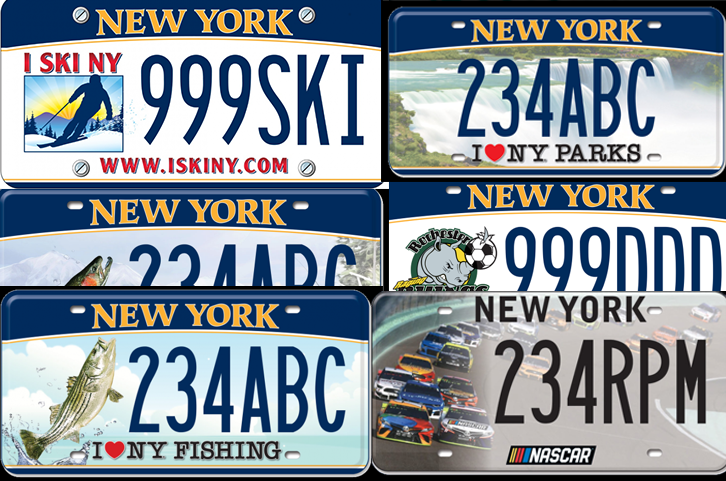 Custom plates are a way for motorists to show their individuality, a sense of humor, or show support for a cause. The DMV announced in February 2022 that it would allow fans of the NASCAR Cup Series to customize their vehicles with a plate inscribed, NASCAR. The plates being sold by the DMV include a restyled plate with the name Martin Truex Jr. and number 19 on it.

The DMV commissioner, Mark F.F. Schroeder said that in New York, the enthusiasts of NASCAR are highly committed and dedicated to the sport. DMV is offering these fans a chance to take their fanaticism a notch higher with the custom NASCAR plates.

Other than NASCAR, New Yorkers are skiing avid fans, especially during the winter. They can express their love for the slopes by purchasing a DMV custom plate with the inscription 'I Ski NY.'

According to the DMV Commissioner, Schroeder, people in New York love skiing and for that, DMV has customized plates for people to show their love for the sport around the year.

According to Erik Kulleseid, the custom plate designed by the DMV is raising awareness across the state for skiing. At the same time, people who are showing their support for the sport while driving across the state with their custom plates. Skiing is a recreation that majorly takes place during the winter and with the wonderful state parks across New York, fans get to traverse the state while exploring different parks.

The DMV sells numerous custom license plates standing for different professions in New York, veterans, the military, various counties in the state, and others. Individuals who wish to purchase their customized plates should consider finding the number plates on the DMV's website. You can order custom number plates on the website by calling the Custom Plate Office or sending them by mail.